UN say 'Cameroon, make una protect civilians for far North'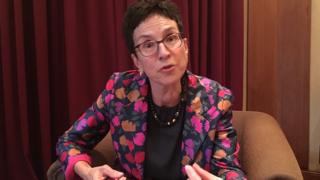 Di United Nations (UN) need $189mn dollars for give assistance for north side of Cameroon, where fight-fight don make pipo run for dia life.
UN Assistant Secretary General for Humanitarian Affairs weh na also Deputy Emergency Relief Coordinator, Ursula Mueller say pipo dem for Cameroon di face multiple crisis for seka violence and conflict, but de big wan na for Lake Chad region.
"De big worry na security issues dem, and ah insist say make authorities protect civilian dem, as dey glad for UN assistance and di ask for more help," Ursula Mueller tell BBC News Pidgin.
Ms Mueller add say e be important for take care for internally-displaced pipo dem, refugees and host communities because di "far North na one of de poorest areas for Cameroon and pressure dey for host community and staying together fit get k-leg."
For seka say di area na dry place, pipo no fit go farm because of Boko Haram militants, and even host community di face plenty problem for get chop. Mueller say de needs assessment weh dey di do di put eye for community weh e di keep de refugee dem.
"Even as we recognise effort weh Cameroon put for give land, international community get for support pipo weh don leave di village dem and refugees....for North, we di ask for $189mn dollar dem for assist de 2.1million weh lack chop pipo for dis area."
Mueller describe de situation for ground for BBC News Pidgin, say from dis 2.1 million pipo weh need humanitarian assistance, 57 percent na pickin dem, 240,000 na internally-displaced pipo plus de refugee dem weh run away from Boko Haram.
For Minawao refugee camp na im Mueller meet woman weh bi Sarah and e nack tori, how Boko Haram bi kidnap yi and husband, and as e bi get pickin for hand e no bi fit run, na so e no know wusai e husband dey.
De UN official say: "as as long as refugees dey, dey need assistance, protection, livelihood and ah glad for see say humanitarian community put school for camp. Displaced pipo dem too dem need water, chop and protection; we di put programme for prevent and gender-based violence and helep victims for de area.
Mueller say de situation for Central Africa weh deh rank 188 out of 188 for Human Development Index dey critical. De place na danger zone for humanitarian workers; 14 die last year and deh di attack peacekeepers as fighting di go on dia. Even some internally-displaced pipo want go plant before rain pass, but dey no fit go because of fight.
"De pipo di inspire me, dey be resilient, dey get hope and dignity and international community get for be with dem and ah check say my visit for Cameroon, Central Africa and Chad na for tell dem say we nova forget dem," Mueller explain.