Anglophone Crisis: Mancho Bibixy, odas di appear for court today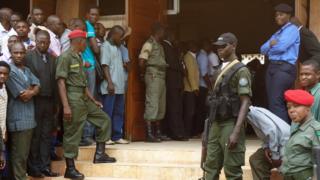 Na today court go get anoda shidon for shine eye for case for Mancho Bibixy and odas weh deh arrest when Anglophone crisis start, as lawyer Maitre Emmanuel Simh confirm for BBC News Pidgin.
Since de government arrest some pipo when de palapala start for Anglophone region dem, dey di enter court, komot go back for Kondengui but no judgment nova komot and dis na number 14 month now.
For one of de hearing Bibixy bi tok say e bi march for Bamenda for condemn discrimination and oda thing dem weh Anglophones di suffer, den e ask court for condemn yi for die, but make de free de oda pipo dem.
Among oda things, de accuse Bibixy say e bi among de pipo dem weh dey di put fire for rebellion mata.
De radio animator na de man weh e bi bring coffin for open place for Bamenda enter inside for tok and now deh di call e man for coffin revolution.
Bibixy dey among de 125 Anglophone dem weh Barrister Agbor Nkongho say deh flop for Kondengui.
De boss for Centre for Human Rights bi say lawyers dem no dey for helep with de case dem for court as Anglophone dem plenty and de cost for lawyers for leave Buea or Bamenda kam Yaoundé high.