Anglophone crisis: Mancho Bibixy, odas go appear again for March 16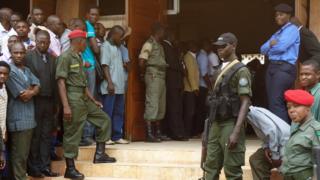 Na on 16 March na im authorities for Cameroon go give di final verdict ontop case for Mancho Bibixy and odas weh deh arrest when Anglophone crisis start for di kontri.
BBC News Pidgin follow di tori as di hearing bi start for 12:45 pm today, with case for Ngalim Joseph weh e don reach last stage for give judgment.
De be arrest Ngalim Joseph for seka say e bi buy newspaper weh e bi get report for federalism.
President of the Military Tribunal, Mme Abega Eko Eko na e adjourn de case for March 16.
Bibixy and seven odas, dey bi get three choices dem, for swear before de tok, and answer questions, for tok from inside box and no aswer any question of for remain silent.
Anglophone Crisis: Mancho Bibixy, odas di appear for court today
Mancho Bibixy, with handcuff for hand, and weh e wear white Hausa style top and trouser and black hat decide for tok from box.
De main thing weh e tok na say if dey free yi, e go try for see say peace kam back for Northwest and Southwest regions dem.
Anoda person weh e tok na journalist from one local media house, Awa Thomas, e too stand tok for inside box.
De five odas decide for remain quiet and dia own case go also be for March 16.
Na Barrister Akere Muna bi represent de pipo dem for Military Tribunal.
Since de government arrest some pipo when de palapala start for Anglophone region dem, dey di enter court, komot go back for Kondengui but no judgment nova komot and dis na number 14 month now.