Why we no support Alternative Rite of Passage – Unicef
Onyinye Chime
Broadcast Journalist, BBC News Pidgin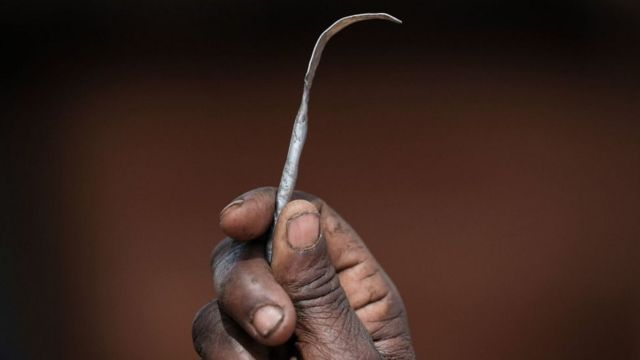 Alternative rite of passage no be solution to Female Genital Mutilation (FGM) or female circumcision for Nigeria, dat na why abandonment and elimination na di way forward. Na so Unicef tell BBC Pidgin.
Most communities for Nigeria wey dey practice FGM dey cut dia pickin especially after 7 days wey dem born dem. Na only very few communities dey cut young girls before dem marry.
Mariam Enyiazu na Child Protection Specialist for Unicef, Abuja. She say, FGN dey highest for Osun, Ekiti and Eboyi states wey more than 70% of women dey circumcised or must go through circumcision.
Di war against female circumcision na difficult one because, FGM na part of di culture and tradition of people wey dey practice am.
According to law, FGM dey illegal and for many years now different group of people plus NGO dem for Nigeria, dey try see how dem go stop am.
Dem dey use different methods plus including Alternative Rite of Passage (ARP) - dat is, instead of to circumcise di women, dem go do party for dem.
Other methods na abandonment and elimination where village people go take dia hand decide say dem no do again.
Wetin be ARP?
Sabi person Margaret Onah, wey be oga of SafeHaven Development Initiative say, ARP dey important because e "appreciate di value of tradition but reject di harm" wey e dey cause woman.
Onah say, ARP dey try change how villages dey take initiate dia girls to become women.
ARP dey work wella for Kenya and Tanzania and dem even get evidence to show am.
For ARP to work well, e dey depend on di kind of female circumcision wey di people dey practice. Kenya and Tanzania work well because na when girl wan marry husband dem go cut dem. But e different for Nigeria.
Di wahala with ARP
Three major wahala dey with alternative rite of passage for Nigeria; one na di money for celebrations and di other be say e no cover pickin dem and all di other different methods of circumcision wey no be graduation from girl to woman.
Majority of di people wey dey practice female circumcision for Nigeria dey cut small pickin dem especially di one wey dey 7 days.
Di kind party and gift wey dem need to give di women so dat dem no go cut dem no be here.
Dis financial requirement plenty and many families no fit afford am, so most times na di NGO dey pay for am.
As e no easy to sustain am, Enyiazu say, abandonment na di way. When people decide say dem wan abandon circumcision of dia daughters, dem no go need find money to do party.