Cameroon: President Biya shake e cabinet after long time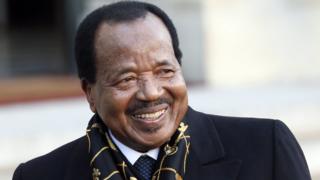 Cameroon President Paul Biya change inside e own backyard as e put new civil cabinet director and assistant and ministers dem.
Some minister don change laik three ministries and na de same face dem weh de in move round.
Two Anglophone dem, Paul Atanga Nji and Nalova lyonga enter de government for Ministry of Territorial Administration and Secondary Education for dis order.
But president share ministry of Territorial Administration and Decentralisation for two parts and now we get Territorial Administration weh na Paul Atanga Nji be Minister and Decentralisation with Elanga Obam Georges as Minister.
De oda ministers dem and Prime Minister no change.
After de appointment na so reactions flop for social media as any make di make e own analysis, condemn or clap for de appointment.