Cameroon: Teachers sign dissolve dia group before deh release dem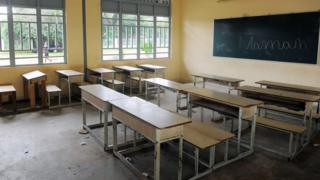 Teachers sign undertaking before police release dem after weh dey bi di protest say government no pay dia salary arrears.
"We di condemn de information weh e dey for public, for social media and some media house dem say na over 300 hundred teachers, na 56 police arrest", Bouayelehiki William, tok-tok for teachers sign release.
Police bi arrest teachers dem for February 27 as dey bi komot for road for march for push government to pay dia 14 months arrears and oda allowances dem.
For front ministry of basic education and around Prime Minister e office where dey be plan for go stand police bi block everywhere.
Cameroon Teachers' Strike: Police di surround education ministry
Law firm bi helep teachers for police for take dia statement and dey komot detention after four days.
Cameroon: Law firm di assist teachers weh dey arrest
For undertaking teachers sign di thank minister for secondary education for weti wey e do for komot dem for detention, dey dissolve dia group, "Nouveau Collective des Enseignants indigenes du Cameroon", close Facebook and WhatsApp accounts weh e concern dis group.
"We go wait for result of de inter-ministerial committee for shine eye for problem for manage our career and national education forum", dey teachers dem sign.