Para-military officer helep for dig de corpse as Nso pipo don bury dia queen mother two times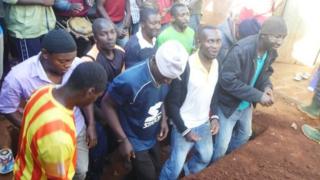 Prince for Nso and de (chief) Fon drag for bury queen mother de prince bury queen for sharp morning den, Fon get support from para-military remove de corpse go buryam for common cemetery for queens.
Dis wan no be drama, na real life as e happen for Kumbo for Bui Division for Northwest region for week-end.
Tension bi dey Kumbo for Saturday as three trucks for paramilitary officers enter quarter for make sure say deh dig de corpse for queen, take'am for another common burial ground for queen dem weh Fon create'am laik four years ago.
As eye witness and neighbour Tangka Eric, Project Manager for Kumbo Development and Orientation Centre nack de tori for BBC News Pidgin, as pipo see army truck dey just pick tokyo because now so for Kumbo, fear for army na de beginning for wisdom with Anglophone crisis.
But, de army bi kam helep Fon for make sure say dey dig de corpse for queen go bury'am for as tradition want.
Anglophone regions for Cameroon don celebrate Youth Day inside violence
Tori na say queen e bi don reach laik 120 years and e bi get four pikin bi don di stay with e pikin weh na prince, for laik 10 years before e die.
De queen, weh de di callam for Nso 'Wirntoh' bi don old and sickness of old age add ontop so de pikin dem including de princesses bi di care for dia mami.
When queen die Shey Federick Alahni weh na de prince take de corpse from mortuary kam bury'am for sharp morning as queen bi di stay na with yi.
Deh bi don start de craiy die with traditional dance, when Fon ask for help from authorities and they send yi three truck dem for paramilitary officers weh dey mount guard as dey remove de corpse go bury'am for queen burial ground.
Before Fon create de cemetery, de bi di bury de queen dem for (Tan Ntoh) palace official e compound and pikin be fit beg for bury de queen for dia compound, na so Bulami Edward weh SG for Nso Development Association, NSODA tok.
So, de problem here as Tangka tok be fit bi say prince no be follow de right procedure for ask make dey leave yi for bury e mami de queen.
If de right procedure for bi, Fon for give mat, send some man (Tah Ntoh) make yi go tok for grave side as tradition want'am.