Anglophone Crisis: Ambazonian forces send video for missing delegate for social media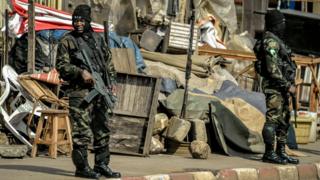 Exactly one month weh pro-independence forces bi kidnap Social Affairs delegate for Northwest weh video for delegate di circulate for social media.
"Ah bi Nimbong Aaron Yong, regional delegate for Social Affairs for Northwest, ah di plead with Minister for Social Affairs say make she intervene make deh show Ambazonian leaders weh government force back for Cameroon", na de thing weh delegate di tok for de video.
"Make deh show say de pipo dey alive if not dey go kill me, I dey here so deh don give me 48 hours make de see de leaders dem if not dey go execute me, so ah di plead with my minister for intervene for high level for government make dey spare my life", de delegate add say na so de Ambazonian force tok.
When de video wan start de emblem dem for Ambazonia di komot with Ambazonian forces stamp clear before delegate start tok.
Ambazonian forces bi kidnap delegate for Social Affairs for Northwest, Nimbong Aaron Yong, even as de search di go on for Marcel Namata Diteng, Divisional Officer, DO for Batibo, for 11 February.
For seka say most of de attack dem for security forces na for on-top bensikin, Minister for Territorial Administration, Paul Atanga Nji don ban bensikin for some division dem for Northwest and Southwest regions.
For day taim and even for night for Widikum, Batibo and Balikumbat for Northwest and Kumba I, II and III motor-cycle weh e no belong for government or security no di komot for road.
Just now, de two Anglophone regions dem di sleep early as de curfew weh de governor dem di renew order weh e stop pipo for waka for night every taim.
Even today, tori say fight-fight dey between Ambazonia forces and security forces for Batibo for Northwest region.