Ghana be 5th ranked country plus largest number of 'illegal' immigrants for US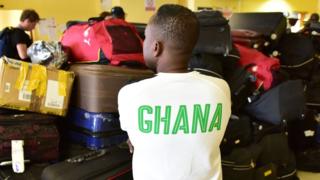 Anytime you go walk for town inside one possible poster you go see for Ghana be middle men wey dey advertise help people secure US visa.
Every year, nearly 16,000 Ghanaians dey get visa go US for business, education, tourism den tins but like 7,000 dey overstay.
Sake of that di US Embassy dey 'bounce' most Ghanaians who dey apply for visa as chaw of demma people wey get visa travel no dey return.
Dis be di revelation wey US Ambassador to Ghana Robert Jackson reveal for interview inside plus Kwabena Kyenkyenhene Boateng for in show top, '21 minutes with KKB.'
"Sake of almost 7,000 of your countrymen dey overstay demma visas or dey committ crimes for US… e make hard give other Ghanaians who dey want visa" Ambassador Jackson reveal.
Ghana be di 5th ranked country with di largest number of 'illegal' immigrants for United States of America after top four who be India, China, Philippines, den Russia according to Ambassador Robert Jackson.