Ghana go fit legalise homosexuality in 10 years - US Ambassador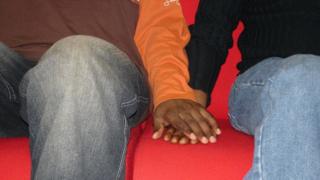 Ghana go fit legalise homosexuality in like a decade although chaw people get strong opposition against gays, but US Ambassador to reveal say Ghana get more gays saf pass the numbers people dey imagine exist.
Di major challenge for gay people be say sections of society no dey accept demma sexual preferences, something which di US Ambassador believe say go fit change in di near future.
Chaw gay menerz dey Ghana, sometimes dem dey dress like woman but others be normal, but one challenge dem get be say Ghanaians no dey accept demma sexual preferences.
Robert Jackson, United States Ambassador to Ghana say more gay people dey Ghana despite di way people dey oppose dem for di country, he reveal for interview inside plus Kwabena Kyenkyenhene Boateng for en '21 minutes with KKB' show top.
Mr Jackson explain say Ghanaians for accept say everyone get rights way people for respect, dem dey born people as heterosexual den others homosexual so make people no discriminate against them.
Gay Traditional Council dey exist now
Last year, Gay Traditional Council make bold statement say although Ghanaians dey bash dem, time go come wey den go rise dem fight for di legalisation of gay for Ghana.
President Akufo Addo during November 2017 talk for interview inside Qatar-based Al Jazeera say possible changes fit happen if gay people for Ghana push make dem legalise demma sexual orientation.
Although people bore, US Ambassador to Ghana, Robert P. Jackson say he be sure say Ghana go fit legalise homosexuality in like di next decade.