La Liga and Cameroon Football League don sign agreement for develop football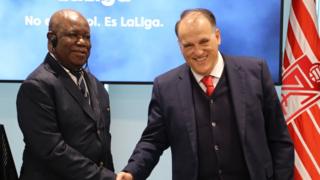 LaLiga and Professional Football League of Cameroon, LFPC, don sign Memorandum of Understanding, MOU for develop Cameroon football for become more professional.
De bottom line for de agreement na say LaLiga go give advise for LFPC for e sport management, football matters, for manage finances, corporate and social responsibility, how for develop sporting projects, security and integrity.
LaLiga for e side go make make pipo know dem beta, de go gain from de LFPC sabi for local football, and how fans dem di behave. Dis na for helep dem enter well-well for Cameroon weh na one strategic market for LaLiga.
De Spanish league wan understand local circumstances and customs for give content weh e suit taste for Cameroon supporters and make dem for engage beta.
De pipo weh deh attend de signing too na Javier Morente, LaLiga delegate for Cameroon weh e do de ground work, Oscar Mayo LaLiga International Development Director, Therese Manguele LFPC general-secretary, and Faustin Domkeu LFPC vice president.
Tebas for de ceremony say "since Cameroon don be na place where deh di get players for LaLiga. We be di get and we got still get some super players from Cameroon for seka dis agreement. From how we di manage sport, we wan build strong relationship and dis kain move weh we di share sabi dey important for we".
"Ah glad for dis collaboration weh e go helep we for develop and for become more professional. Na honour say we sign dis agreement with one of de biggest league and weh e get some top clubs for de world. We no fit wait for see de support weh LaLiga go give we", Pierre Semengue LFPC president tok.
LFPC na de latest for entre agreement list as LaLiga don sign some before with South African Football Federation, SAFA, Colombia League, Dimayor, Football Association for Malaysia, FAM.
De agreement kam for taim weh Cameroon de prepare for host 2019 Nations Cup.