Cameroon: Plenty restriction for waka about di worry business for Bamenda-Resident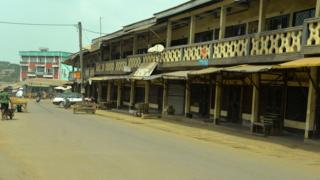 Resident for Bamenda say life no easy as governor stop waka about since, as e di worry business plus de plenty ghost towns
"Ah di check for leave Bamenda go back for village, for seka say business no di waka again", Terence Kewir weh na business man, tell BBC News Pidgin.
De business man say any man di run go yi house early for avoid problem with security forces. And when dis wan join de plenty ghost towns business di just die, and we get for pay rent for store for month end, e tok.
"Bar and shop dem di sell well na for evening taim before midnight, and when we get for close early e di worry business but dis taim e still good say governor extend de taim for 9:00pm", e add.
Residents for Northwest di only waka about and do dia business from 9:00pm till 5:00am and dis taim till further notice, if we follow de latest release from Adolphe Lele Lafrique, Governor for Northwest.
De restriction for waka for night bi start for February 11 from 8:00pm till 6:00am and authorities di so-so extend'am every taim for one week before but dis taim e go fit continue sotei till de situation beta.
De reason for stop waka about for pipo and dia property for de region till further notice authorities say na because of de threats dem on forces of law and order and for de population from secessionist activists.
Na so governor den di beg say make de population collaborate, respect de law, stay inside house for helep forces of law and order for stop activities dem for secessionist activists and some odas individuals dem weh dey di harmbock de peace loving and hospitable region.
Governor di count on patriotism and civic responsibility for all Northwest pipo as all man di try make peace return for de region.