Cameroon: Gofment say money dey for Senatorial campaign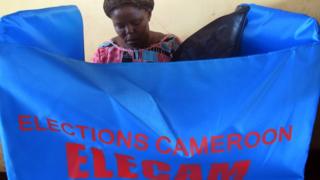 Election campaign dey for all corner as parties di prepare for March 25 elections and go heat up as government give moni for campaign.
Minister for Territorial Administration, Paul Atanga Nji don make announcement say make party dem give their bank details for receive de moni for campaign weh na government support.
Senatorial elections na de first for de elections dem weh Cameroon go get dis year, before regional, parliamentary and presidential elections.
De electoral code for article 284 say government di participate for finance campaign for elections as e di take some expenses for political parties or for de candidates dem.
For senate elections government di give de moni for two parts, before de election after way election body publish list for party and candidates. De second part na after elections depending on de number for seats weh each party win.
Before government announce de moni, party dem bi don already look for moni for banner, flyers other things as some parties start campaign for Saturday.
Law say parties get for do campaign 15 days before election, and na so CPDM, SDF, UNDP, and UPC don start dia campaigns.
Even now, de ruling party president Biya for circular don tell e party for doi everything for get total votes. Main opposition party, SDF launch e campaign for Southwest region.