Cameroon ex-minister don join list for pipo weh no fit komot for kontri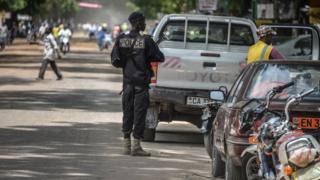 Police don stop former Minister of Water and Energy Basile Atangana Kouna for komot for kontri.
Police Commissioner, Chetima Malla Abba sign de message weh e send'am for immigration and airport and police posts say de former minister Basile Atangana Kouna no suppose for leave de kontri.
E no bi de only one, Louis Max Ahadja Ayina weh na former secretary of state for Public Works Ministry e name too deh for de police message.
Na for March 2 weh President Biya shake e government komot Atangana Kouna and now so e fit dey for hawk e spy mirror.
E nova stay weh police send dis kaim message say director for Cameroon Telecommunication, David Nkoto Emane and e seven collaborators dem no fit komot for kontri
Cameroon Anti-corruption Commission, CONAC bi launch Operation Sparrow Hawk for 2006 for track corruption for Cameroon.
And when message don komot say de person no fit komot for kontri de next thing na for appear for court and from dia go prison.
Dis hawk so don catch plenty big fish dem weh deh Kondengui today laik former Minister for Finance, Polycarp Abah Abah, former health minister Urbain Olanguena Awono, former Cameroon Shipyard and Industrial Company manager, Zacchaeus Fornjidam and odas.