Cameroon: Meet de woman weh e di show face for military court every month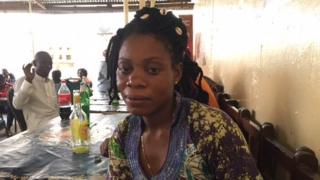 Quinta Kwalla Ndze di travel from Wum for Mechum Division for Northwest region of Cameroon every moon, with e one boy pickin wey be one years old for kam show face for military court for Yaoundé.
"Na number eight taim weh ah di kam and when deh call ma name ah answer, dey go just say renvoye, (postpone)", Quinta Kwalla Ndze tell BBC News Pidgin.
"E no easy for travel so every moon, I don use moni for ma call box all for pay motor for show face for military court", e add.
Kwalla wahala start for January 24, 2016, when army man chuck e sister-in-law e pikin, weh e be bi na bensikin boy with knife e die.
Deh be di fight ontop some girl.
Bensikin boys deh bi block road say make motor no pass because deh bi wan go see de army man weh w kill de boy.
"As deh bi call me ah komot go search for mortuary but dey say de corpse deh army camp, so ah kam back siddon for near de corpse," Kwalla tok.
"Ah see fore for gate, ah leave de corpse run call some man, say bensikin boys deh di burn army camp. By de taim we di kam back dey don shoot some boys dem say deh burn camp, leave de corpse outside gate", e add.
Kwalla say as deh di finish craiy die, deh arrest e small sista as deh di look for yi, dey say as ah bi shiddon for gate ah must know de pipo weh burn camp.
"Ah go compagnie tell dem say make de lef e sista arrest e, den ah bi dey with belle one moon three weeks".
From Wum, Kwalla say deh take e go Bamenda for legion e make wan close to two moon there, di sleep for floor. Deh say na yi send pipo for burn de camp.
Den ah make three moon for Bamenda prison and deh take e go Kondengui for Yaoundé and e make three moon ontop mat, no bed.
Kwalla e uncle kam bail e for go born for house, and we gree say every moon ah go show report for military court for Bamedna.
"As ah no bi born fine, make two moon ah no show up, deh send book say ah don absent ah get for kam now na for Yaoundé, na number eight taim e don kam already".
"Ma business fall, ah don spend laik 200,000 frs for de eight taimes weh a kam, 25,000 thousand for any trip, ah di only ask weti bi de reason for arrest me and ah di still suffer sotei till today".