Africa don lose plenty moni as pipo di hide travel for ship - Ports Director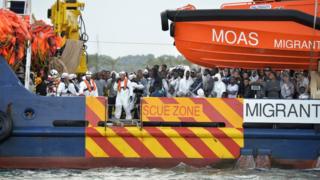 Africa di lose laik 15 million dollars for seka say some pipo di hide travel inside ship from one kontri go for anoda.
Na Josue Youmba, di manager for Cameroon Ports Authority, talk dis one for meeting for maritime experts.
Di issue of illegal passengers dem for ship weh international experts dem di shine eye for de situation for Yaoundé.
Some pipo di hide for inside ship for travel from one kontri to anoda and na dis kain thing di make some seaport dem no deh safe and ships dem no de wan go for such port dem.
De worse wan na when de illegal passenger carry gun for threaten and steal from de ship.
Julian Abril, expert for International Maritime Organisation, IMO, tell national newspaper, Cameroon Tribune say de pipo dem weh deh hide travel for ship na big problem security and image for de seaport dem.
If shippers sabi say pipo fit sneak inside ship for your seaport, deh fit stop for use your seaport, as deh di fear say de ship and cargo weh deh di carry no bi safe, Secretary General for West and Central Africa Port Management Association, add.
Participants for dis meeting for shine eye for illegal passenger komot from Ghana, Kenya, Nigeria, South Africa, Senegal and Ivory, weh na some kontri dem weh pipo fit hide migrate go another kontri for ship.