Cameroon: Governors for Anglophone regions stop waka for senatorial election day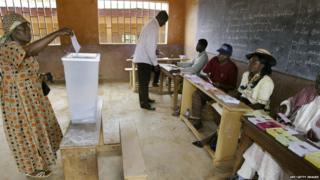 Election for Anglophone regions de pass without waka about as governors stop movement for pipo and dia property.
Counsellors for de two regions dem go vote for senators for tight security and only official motor go waka, man weh e break de go hear nweng.
Na nine political parties go try for grab de 70-senatorial chair dem and president Biya go appoint de remaining 30 for complete de number.
For Northwest, governor Adolphe Lele Lafrique stop bensikin dem for waka from 6:00am till 9:00pm.
Pipo and dia property no go move from one division to anoda for de same time.
Den governor Benard Okalia Bilai for Southwest sign e own say from 8:00pm last night go reach for 8:00pm dis evening for Southwest.
De two governors say mbere khaki motor and ambulance plus oda pipo weh get authorisation weh competent authority sign, SDO or DO, dem go fit waka.
Any man weh e wan try dis order go hear nweng for de two regions dem and de mbere khaki go show dem pepe.
De election di pass weh de moni weh gofment promise, e nova give political party dem just now.
Even as e dey so, some Amabzonia forces di warn say any counsellor weh deh go catch'am say e di kam vote go hear yi own.