Cameroon: Elections boss say incidents for Anglophone regions no fit spoil election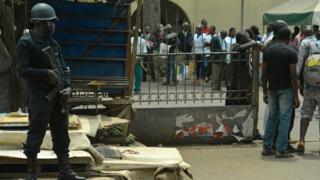 Elections Cameroon director general, Abdoulaye Babale say de small disturbances weh e happen for Anglophone region no fit spoil de elections.
"We get some disturbances for Southwest and Northwest regions, and plenty pipo no vote for Far North region for seka say some voters fear for dia security, no major disturbance be dey for polling stations and we get documents dem for taim immediately as polling station close", Babale tok.
De total voters be bi na 10,105, 9305 vote and 800 voters weh na 7.75 percent no vote for kain-kain reason and participation rate na 92 percent.
Elections Cameroon boss give detail for de number for registered voters for each de 10 regions dem.
Babale say de general atmosphere for de election bi good, but e say na different authority fit tok about security, even as e say election process pass fine for de whole kontri.
For yi side, Minister for Territorial Administration, Paul Atanga Nji say election pass fine for de 58 divisions dem with no problem as 3723observers be di shine eye, e no hint say some disturbance bi dey for Anglophone regions.
Atanga Nji say deh go count de votes dem for regions national level before constitutional Council give result inside 15 days.
From Southwest resident for Menji for Lebialem division say vote no pass and say deh transport de voters for go vote for anoda place and counsellors run for Bangem for seka gun-shot.
SDF see camera weh deh hide for polling station for Mbengui, and counsellors run hide as Ambazonia forces warn dem for Bamenda.