Cameroon: Rights groups want unconditional freedom for Mancho Bibixy and odas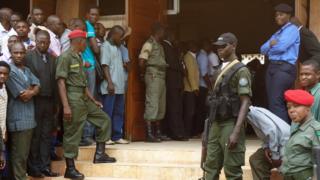 Hearing for Mancho Bibixy and odas weh deh arrest for seka Anglophone crisis dey today for Yaoundé Military Court and rights groups di put pressure say make ngomna free dem.
"Free all pipo weh deh arrest for seka Anglophone crisis", Central Africa Human Rights Defenders Network, REDHAC and Centre for Human Rights a d Democracy in Africa, CHRDA don tell ngomna before hearing today.
De rights group say deh go hold judicial authorities responsible if deh no drop charges, and immediately free without any condition Mancho Bibixy and odas weh deh arrest for seka Anglophone cirisis.
Barrister Nkongho Felix Agbor Balla and Maximilienne Ngo Mbe for CHRDA and REDHAC send dis message for President Biya, Prime Minister Philemon Yang and odas.
For court for March 16, Mancho Bibixy when e di discuss with lawyer, e say when court bi give e chance for tok and e tell ngomna say peace bi very important and say dialogue fit solve de problem. As e di doubt if deh di tell President correct thing Bibixy say de taim for dialogue na now.
E say, "Fear for die na de last thing weh e di worry me, plenty bullets dem don fly ontop of my head and legs, some touch ma foot. Ah no di fear for my life. When you deh for dis kain struggle weh you di fight for freedom, liberty, no bi fight for take medal, Ah no care if deh dead sentence" e tok.
"Ah know say ah fit die, even when ah sick sotei deh di push me for wheel chair as ah no bi fit waka, ah still di preach de same message, make we solve dis problem and we get for fight to the end. We don suffer for 57 years, we grand pa dem bi put we inside dis union, because deh bi see Francophones laik we brodas. And laik late Foncha, bi prefer say make we join we Francophone Brodas ah still stand for e word.