Cameroon: Lawyer say adjournment na delay tactic for Mancho Bibixy and odas case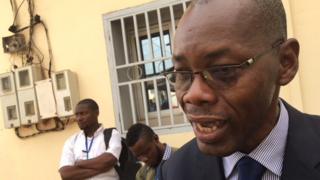 Court don adjourn case for Mancho Bibixy and odas weh e get connection with Anglophone crisis for April 13.
But, defense counsel lawyer, Maitre Emmanuel Simh say for shift de case again na delay tactics weh e no good.
"We be di kam today for hear weti weh de state counsel get for tok for Mancho Bibixy and odas case and we bi check say the case go end today" Maitre Emmanuel Simh tell BBC News Pidgin.
De lawyers dem for ngomna e side claim say dey no bi know say de case na today and deh plead say make court adjourned case for seka say odas no bi present.
"Ah surprise because deh bi adjourn de case as state counsel bi ask and now na dia lawyer di ask for shift", dis wan no normal, Simh tok.
"For we, na tactics for delay dis case for nothing and we say na purely political case weh e no get anything judicial. Ah check say President Biya suppose put eye free de pipo dem as e bi don free odas weh deh be bi for de same case with Mancho Bibixy dem", e add.
De lawyer say de political case need for get political solution de pipo dem no suppose appear for Military court for answer for language weh e no bi dia own and far from dia own pipo.
Maitre Simh say deh di continue for plead say these pipo weh de arrest for Bamenda, deh bi suppose judge dem where deh arrest dem, for language weh deh understand and if deh must go ngata, make e bi for dia town weh dia family di live.
De bring dem for Yaoundé weh no man do dey for helep dem, and we check say balance no deh for de process, e lament.
"True-true process be na if de pipo feel say justice dey, and we client dem feel say de case no be just, and de kain decision weh deh go take go be political and not inside law. Dis case deh empty and we hope say authorities go take political decision for free dem", Simh tok.
Na eight pipo dey with Mancho for dis case but deh pipo weh authorities arrest for seka Anglophone crisis pass 100.
"We di tok say as dis pipo don make more than one years for ngata, deh suppose free dem laik odas weh ngomna don free before for de same case. We di still try for see say authorities take political decision for free all of dem make peace and serenity return for Northwest and Southwest regions".
Awah Thomas, weh e head no correct, weh e dey for de case with Bibixy animate de court as e di cush all man say how deh go judge dem inside court weh President Biya e picture dey.
How deh go call dem terrorist, separatist, say deh bi don separate from La republic since.