US Ambassador meet Cameroon leaders for find solution for Anglophone crisis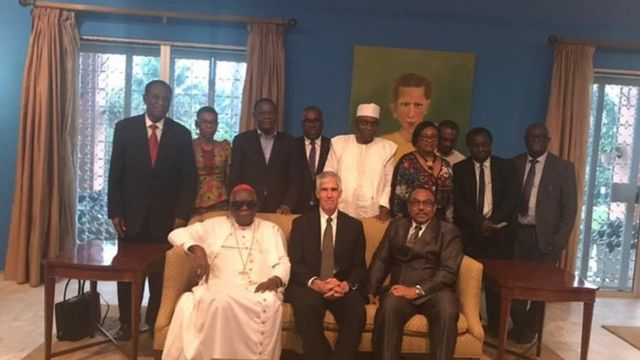 United States Ambassador for Cameroon, Peter Henry Barlerin, don di find solution for Anglophone crisis.
Na for get lasting solution for katakata for Northwest and Southwest regions dem weh Ambassador Peter Henry Barlerin meet with civil society, clergy, rights groups and representative for ngomna.
For answer weti US embassy tok for de meeting, embassy staff tell for BBC News Pidgin say de meeting be bi na for get idea for de situation for Northwest and Southwest regions.
As part of diplomacy embassy get tradition for meet with different groups dem for host kontri.
Some leaders dem weh deh bi deh for dis meeting and Cardinal Christian Tumi, Gregoire Owona, Minister for Labour and Social Security, Maurice Kamto political leader, Barrister Agbor Balla Nkongho.
Anglophone crisis weh e start with lawyers strike and teachers dia own follow don pass one year and plenty pipo don die for security force and pro-independence group side.
De crisis di cause plenty suffer for kontri pipo dem, some pipo run from de kakakata enter Nigeria and dia own suffer sef don pass mark as deh no get chop and place for sleep.
For de meeting, Barrister Agbor Balla say na de promise weh dem no keep for Foumban conference cause de crisis. Some pipo no feel say deh belong and other discrimination dem na oda cause.
For get peace laik before and make pipo dia heart cool, make government free Mancho Bibixy and Terence Penn Khan weh deh di face court for seka de crisis, the rights lawyr tok. E add say make ngomna lef lawyers make deh see de 47 pipo weh deh force back for kontri.
For yi, na pipo weh no di take side get for start correct process for shiddon tok from heart, and reconcile make sure say pipo respect decision weh deh go take.
"Taim don reach for end killings and violence for all side and also end suffer for innocent pipo dem", Barrister Nkongho tok.