Dem fool pipo say Jackie Chan di kam Cameroon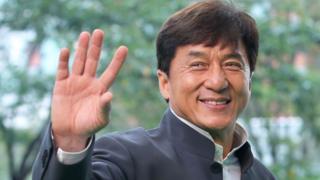 For de first edition of martial arts Festival - FADAM weh e take place for Yaoundé sport complex, de promoter Dominique Martin Saatenang fool pipo say some big taim actor, Jackie Chan go kam.
For one-week na so de announce di pass for radio and tv say Jackie Chan go bi for de martial arts festival.
For de di day, all man di wait for see Jackie Chan for sports complex di check as na some kain important guest deh don keep e for backside de wait make taim reach.
Den as ceremony start Saatenang announce say Jackie Chan go make e speech, den e komot na for tv screen tok.
Den Saatenag explain say Jackie Chan no be fit kam at de dying minute say dat na why e send message say e di support dem martial arts festival.
Na so wan man, Jude Nangkam weh e komot for far way for kam see Jackie Chan, vex say e don waste e moni for nothing.
E say e no fine for lie for pipo because before dey put programme dey get for make sure say de person agree for kam.
But another person, Eric Epoune no vex e laik de displace weh Satennang with martial artist from different kontri show for de population.
Satenang tok and sing for Chinese language for entertain all de Chinese weh deh bi flop for sport complex.
Na national ballet calm pipo dia anger small with dia beta performance weh e display dance form different parts for Cameroon.
Cameroon football icon, roving Ambassador Roger Milla de dey among de very important personalities for FADAM.