Queen Amina of Zazzau: Di first powerful Nigerian woman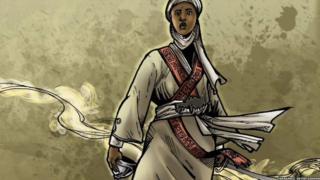 Nigeria na kontri wey dey give women chance to shine sotay na normal tin to see women dey control bank, court and even run tins for politics.
Dr. Ngozi Okonjo Iweala, Amina J. Mohammed and Chimamanda Ngozi Adichie na some of di women dem wey don carry di name of Nigeria enta different kain place all over di world sake of dia work.
One of di pipo wey open dis chance for women na one warrior queen from long time ago wey change di way men begin dey treat women.
Queen Amina of Zazzau, wey dem dey call Zaria now for Kaduna, northwest Nigeria, na di first Sarauniya (queen) wey rule for time wen na only men fit do dis kain tin.
She conquer plenti land for her pipo pass di one wey dem get before.
Who be dis powerful woman
Her name na Amina and na for 1533 for Zazzau dem born am, later dem change di name of di city-kingdom from Zazzau to Zaria.
Her papa na di ruler (Bakwa) of Turunku, wey be province inside Zazzau and di rich family dey do metal business, cloth, kola, salt and horse.
Even though Turunku na town wey dey enjoy peace, Amina like military tins sotay she carry sword join di army and because she be sharp learner, e no tay before dem promote am to general.
Wen di Bakwa die for 1566, na Amina junior brother Karama step up, become king.
Karama no do ten years before im too die and because di Zazzau military bin respect Amina, dem give am support wen she collect di title of queen.
For 15th and 16th century, different Hausa kingdoms bin dey drag who go control trade so e no dey surprising when war start.
Zazzau dey north central dat time, so dem dey di middle of di whole katakata. So Amina no get choice but to carry her army enta war.
With 20,000 men, Amina conquer kingdom after kingdom wey include Kano and Katsina and for di next 34 year as queen, na so she dey fight dey go, dey increase her land dey go.
Because Zazzau na rich kingdom, di kain weapon wey her army dey use na anoda level and na wetin make dem beta pass dia enemies.
Amina na architect, so she bring di idea to build big wall wey go surround Zazzau and di area wey she conquer.
Some of dis wall still dey ground till today.
Tori be say Amina no gree marry but dey befriend men from pipo wey she conquer.
Na for one battle for Bida, wey dey Niger state now wey she die.
Till now, Amina dey represent strong woman. Her nickname na 'Amina, daughter of Nikatau,' wey mean woman wey capable like man.'
She bring respect to women for Africa, wia men dem no dey like to put woman for dia level.
Na religion and British pipo bring u-turn for women freedom for di 19th century.
Even though nowadays pipo dey try well-well to bring women and men to di same level, e still never reach.
But Africa fit use Amina as example say, e dey possible.