Anglophone crisis: 'We need for plan defence for Mancho, odas' - lawyers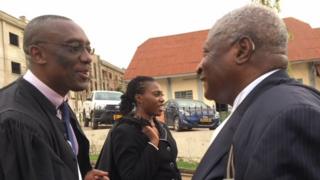 Military court, with Colonel Abega Mbezoa Eko Eko as president adjourn case for Mancho Bibixy and odas for April 24.
Dis one na afta weh state prosecutor and lawyers for ngomna komot strong accusations.
Na so defence lawyers, with Barrister Bernard Muna for front ask for adjournment so dat deh go fit prepare dia defence fine-fine.
Maitre Claude Assira, defence party tell BBC News Pidgin say for pipo weh deh go fit face death sentence, e no good for rush the defence.
"As we just listen to civil party, we no fit just enter start tok, we need for organise we defence, and as na group, we get for identify de points weh we go attack and how we go tok, for which order, and weda we go tok de same tin, so we get for organise we-sef, scientifically too", de lawyer tok.
About ten lawyers for ngomna dem support de accusation weh state prosecutor, Engolo Thadee komot for de Anglophone detainees.
De lawyer quote plenty laws especially law for terrorism for 2014 say alone or with odas any man weh e cause die, destroy public property go get death sentence.
Court say Mancho and odas na ring leaders weh pour petrol for fire for de problem weh lawyers and teacher start'am.
Barrister Achu Julius for de civil party komot history lessons from 1884 reach wen deh divide kontri for Britain and France afta second world war, tok plebiscite for 1961 and 1972 referendum to 1984 act for parliament weh e bring de kontri for Republic of Cameroon.
De lawyers take three hours for argue say make court give correct punishment for Mancho and e kombi dem.
Awah Thomas junior accused pass de whole taim di cough go spit for window ask court for tok. E say lawyers just di fabricate accusation against e. For de documents weh de catch e with'am e say as journalist e suppose get all kain document for do e work.
Court sentence Ngalim for 11 years
Court sentence Joseph Ngwa Ngalim for 11 years with fine for 243780frs and if e no pay, e go get additional 12 months.
Court give e 10 days for appeal. Ngalim bi komot America kam kontri and deh arrest e for taxi say e get newspaper with track inside and e dey e wan for e case.