Chevening scholar say de training weh e get di helep for mentor and advice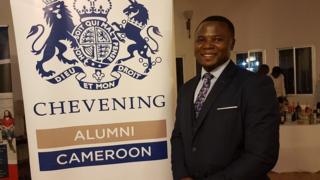 Peter Fomoyuy Tah, Chevening scholar say e don di give back for Cameroon Baptist Convention Health Services weti weh e learn from UK school.
"Now ah di mentor, di give advice for communication, as ah komot from simple staff to head communication for CBSHS afta training for UK", Peter Tah tell BBC News Pidgin.
For go school for UK where deh get high class training, don change ma career, ah di change ma community as ah start put de tin weh ah learn from beta educations system for ground", Tah add as yi and 17 odas collect dia certificates from British High Commissioner.
De Chevening scholar weh e get training too with BBC Academy say na impacting decision weh e bi makam for e life for go learn for UK, dis change de way e di handle e work.
"Before ah no be get focus but now ah di tins different, with open mind and world view.
Ah see ma sef di play strategic role for CBCHS, ah get plenty responsibility and management want more because deh know de kain training weh a get" Tah tok.
As British High Commissioner, H.E Rowan James Laxton with e guest Zakary Perevet, Minister for Employment and Vocational Training di give certificates for chevening scholars, e say chevening na experience.
High Commissioner use Africa proverb, say travelling na learning for say e hope de scholars don di use de skills weh deh acquire for helep for change kontri make e grow.
"Learning no di give only skills for contribute for economy but also for achieve political and financial accountability. E fine for strengthen society and e di kam with accountability, for sabi challenge extremist ideas dem, for bi honest and ask questions", High Commissioner tok.