Cameroon pipo weh MIDA dupe di wait make ngomna pay dem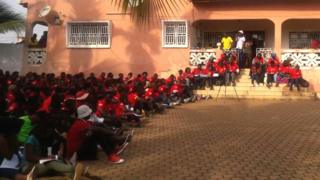 Some pipo weh wan NGO, Mission d'Intergration pour le Development en Afrique, MIDA dupe di wait say make ngoma pay dem as deh promise.
But for now no man fit enta MIDA office for Ahala, quata for Yaounde as police and paramilitary forces don block de entrance and dey for de whole quarter.
For all corna road to MIDA office you go see police pick-up weh e park down with some police inside den eight shields weh police line for ground, and na so afta every 50 meters forces of law and order dey for dis quarter.
Tok-Tok person for ngomna, Issa Tchiroma Bakary promise for pay de moni weh MIDA dupe Cameroonians collect, afta de pipo bi pack for di MIDA office for collect dia moni.
Tori for MIDA, weh e get oda names dem as ngomna confirm na say de NGO na fake weh e no even register de business.
Dis NGO bi start programme for training youths first aid and civic participation and give job for many. So any man bi di register with 12,500 and afta de training deh give dem about FCFA 60,000.
"Ma friend bi get moni from MIDA buy car," Koko Marie for Ahala near MIDA office tell BBC News Pidgin.
Laik fowl weh deh di troway corn for catcham, na so MIDA attract plenti pipo for register, some put 50 million di wait for 250 million odas get different kain amounts weh deh invest.
But de moni weh MIDA suppose give no komot and trouble start as de pipo no see de moni weh de NGO promise. De last message weh de NGO put for e Facebook page na say make 1- 400 kam collect dia money afta.
But, Issa Tchiroma say dey don catch de promoters for MIDA and deh go answer for dia action for law.
No bi de first taim weh deh di dupe Cameroonians say deh go give dem work. One NGO- FAMME CAMEROON bi dupe pipo for pay moni social security, afta dey take de moni disappear.