Cameroon: military court declare Mancho Bibixy, odas guilty for terrorism, revolution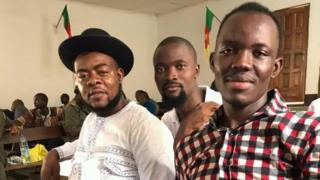 Military court don declare Mancho Bibixy and six odas guilty for terrorism, rebellion and hostility against state and afta, adjourn de case again for May 8.
For some oda offence dem, court free Tsi Conrad, Tha Emile Agwe, Tangwa Maloin Tangwa, Azelecha Martin, Guingah Valentine, Kambeh and Junoir Thomas Awahro and Mancho Bibixy from acts for civil war and assassination for seka say proof no dey.
De big judgement for hearing weh e start for 8:05pm end for 9:45Pm na say military court free Awantou Zacheus from all charges against him, na so defence counsel glad for de decision even as dey for laik for see say court free all dia clients.
Wen court bi give Awantou Zacheus chance for tok before, e say make court really tell e de crime weh e commit because e no know why deh arrest e.
"De bi kidnap me for Kumba and ah no know de crime weh ah commit", Awantou Zacheus tok for court.
Afta court president, Colonel Abega Mbezoa (epse) Eko Eko komot de judgment, Engono Thaddee weh na prosecutor and civil party beg court president say make e give serious and didactic punishment weh e go discourage odas for check say dey fit use violence as way for get weti weh deh want.
De prosecutor and de civil party komot damages about 579 million weh Mancho Bibixy and e kombi dem go get for pay.
Den defence counsel ask for adjournment for, "get summary for de judgement, study'am and also for de claim for damages for civil party, get de names for de pipo weh de di claim de damages, so dat wen we di plead de sentence we go know exactly weti we di plead for ", Louisa Songwe for defence counsel tell BBC News pidgin.
For May 8 wen de defence counsel go beg for soft sentence and Mancho Bibixy and odas go get chance for make dia last statements.