Cameroon: MIDA suppose pay back FCFA 12.7billion weh deh fraud pipo collect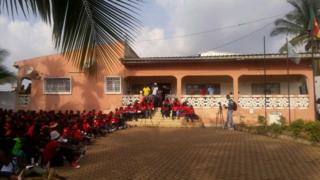 Issa Tchiroma Bakary, Communication Minister, tok-tok pesin for Ngomna say na FCFA 3.6 billion weh deh discover for de NGO, Mission d'Integration pour le Development en Afrique MIDA office after deh search de building.
But de moni weh MIDA dupe kontri pipo collect and weh deh suppose to give back na FCFA 12.7billion.
Dis mean say dey need FCFA 9,175,896,450billion for pay all man.
Trouble start wen MIDA no pay moni weh deh collect for train number seven batch for first aid and dia oda activities and de pipo vex sotei shing say dey must get dia moni.
Cameroon pipo weh MIDA dupe di wait make ngomna pay dem
Ngomna enta inside de palava, first lock de MIDA office den say deh go pay all de moni weh MIDA collect from pipo.
But wen deh discover FCFA 3.622980550 billion for MIDA office Ngomna change tok, say na MIDA go pay all de moni.
"Doubt no dey say na MIDA promoters bi responsible for pay all de moni for de pipo weh deh bi register with dem", Issa Tchiroma tok for release.
Tok-tok person for Ngomna, Issa Tchiroma Bakary for press release say deh di still shine eye for see wusai de remining moni go.
E say commission weh governor for centre region di head, go count de pipo weh deh bi register with MIDA for see how deh go give dem back dia moni.