Cameroon: Meet craftsman Mua Eric weh e specialise for bamboo work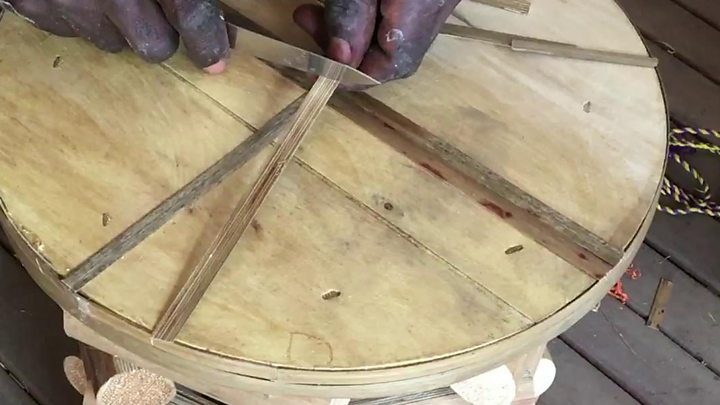 Eric Mua, craftsman from Wum for Northwest regions weh e inherit bamboo work from e papa say de handwork di put chop for e table.
"Bamboo work di helep me now for ma own family, ah bi able for pay ma pikin e school fees, and ah fit feed ma-sef and ma family". Eric Mua weh e specialise for bamboo work, tok for BBC News Pidgin.
For northwest region, deh di call raffia palm weh de di use for make handwork, chairs, bags, baskets, beds and plenti oda tins say bamboo and e fit bi different kain tree for oda regions dem.
Mua start bamboo work for school as e learn from e papa weh e bi di do small-small chair dem, den e get interest for create oda tins dem laik world map and lamp holder.
De craftsman say e no di take long for do small chair dem, but for do royal chair e di take laik one month and e fit sell'am for FCFA30,000.
To get bamboo, weh e di komot from raffia palm bush all de taim, Mua and odas for e village di make sure say deh replant bamboo afta de cut'am.
"We di keep de bamboo bush make e bi clean, because e di shoot out very fast when e bi clean, and e deh easy for go inside cut de bamboo," Mua tok.
Mua pass through selection for sub-division, division and regional level with e handwork for participate for handicraft fair.
"Ah glad say ngomana di encourage we small, we di advertise and sell we products, we di learn plenty, some of we no di kam for win prize but for share idea with kombi dem and copy from one anoda".
Sa Majeste Mbombock, Malet ma Njami Mal Njam weh e di coordinate de handicraft fair say more dan 100 pipo komot abroad pay plane ticket, stand, chop and hotel for attend de fair because deh know say Cameroon International Handicraft Fair, SIARC na big national and international market.
"Around 800 craftsmen and women work hard for one year and deh kam from de ten regions, for compete and show dia handwork. Ngomna don pay every tin for dem, motor, shop, place for sleep, and chop because we want craft pipo for we kontri for bi for international and national market".