Gynaecologist say 'laparoscopy' na deh new way for treat woman dem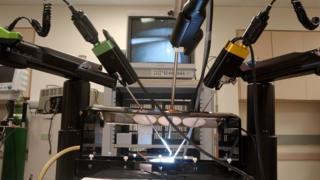 Woman dem weh de get problem for belle especially fibroid, or growth, endometriosis, pregnancy outside womb, ovarian cyst fit well fast and dia belle no get mark afta operation, gynaecologist don tok.
"De innovation weh e di reach Africa now na 'laparoscopy' -method weh we no di cut de belle with cisors laik before, we di chisel three 1cm hole dem, one for put camera inside belle, de onda two for pass oda instruments den show inside belle for screen", Dr Mrs Banmi Lilian Ngwana, gynaecologist for special hospital for woman dia problems for Yaoundé, tok for BBC News Pidgin.
For camera you di see place where problem bi, and with de instruments dem weh you put inside de belle, you di pieces de fibroid den komot'am, even as deh get for open de belle for komot the very big-gig fibroid dem, de gynaecologist add.
Dis 'laparoscopy' na innovation for medicine and science weh deh di encourage all kontri dem for de whole world for di do'am.
De method nova reach all place for Africa and for Cameroon na only few hospital di do'am.
Dr. Ngwana say dis method get plenti advantage for treat problem laik pregnancy weh e stay outside womb, ovarian cyst, fibroid or growth, 'endometriosis'-weh one of de cause fit bi too much pain for belle wen woman di see e monthly period, and weh deh fit treat'am if deh see'am early.
For woman dem weh hospital don check for dis kain problem endometriosis's or na 13 percent woman deh di suffer for Cameroon and plenti nova get check-up. For fibroid, statistics show say na 50 percent of woman dem di get'am for Cameroon, Dr Ngwana tok.
Dr. Ngwana and oda gynaecologists dem join meeting with international and African society for Gynaecologists weh deh di practice 'endoscopy'-(procedure wey doctors di put instruments inside de body for see internal parts) for find solution for woman dia problem dem and deh share weti deh sabi for de mata.
Afta dis meeting Dr. Ngwana say e go fit helep woman dem weh deh di get pain during dia monthly period beta, say de not fit completely treat'am but de correct way for solve de problem na for operate.
So e know say if e give merecine and e no work for three to six months, den e get for komot weti di cause de pain.
De meeting don helep e know how for manage cancer way e bi for place weh woman di release egg every month. So, woman wen woman don pass age for born e fine for do operation komot de tubes dem.