Codeine: How cough syrup dey create addicts for Nigeria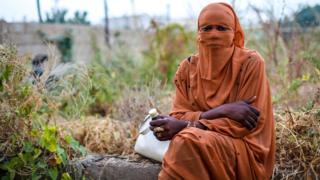 Wen di younger broda of BBC Pidgin tori pesin Ruona Meyer turn drug addict on top cough syrup, she begin chook eye on top di men wey dey make plus di ones wey dey sell di medicine for di streets of Lagos.
Her investigation carry her enta deep koro of criminals for Nigeria where she expose di yama-yama deals wey dey destroy di life of young pipo for West Africa.
"Where plenti school pikin dem dey, once den taste am, na so dem go dey worry you for more," na so Junaid Hassan talk.
Junaidu talk make my belle turn.
Me sef don first see wetin im bin dey talk - young Naija pipo dey high on top cough syrup with codeine no be small. One 14 years pikin for Lagos where I dey stay, her parents no even know how dem wan take helep her. One young boy for Kano wey dem use chain tie put for ground for rehab centre, sake of say im don kolo from codeine wey im bin drink with im paddy dem.
My own broda sef bin suffer codeine addict. Dat bad tin wey dey taste like strawberry bin hook am afta our papa die.
Heart break and di need to feel among na some of di reason wey make Naija pipo dey shak dis medicine. Musicians dey sing about how di tin dey make pesin high. Drug dealers dey for road and nightclub dey sell am. Young pipo dey mix am inside dia mineral and oda soft drink dem, some dey drink am direct from di bottle for "syrup party.".
Hassan aka Baba Ibeji dey work for Bioraj Pharmaceuticals, dis na company wey get license to produce medicine plus including codeine syrup wey dem dey call Biolin. Di company na ogbonge supplier for north of Nigeria.
Im dey among workers for Bioraj wey BBC bin film for secret as im dey do side deal on top cough syrup for some months now. E no dey illegal to drink or manufacture di medicine - but e dey against di law to sell am to pipo without paper from doctor or by pipo wey no get pharmacist license.
Hassan say, "even if pesin wan buy reach 1,000 cartons we no go give am receipt." Dat na how dem dey take dodge authorities. Bioraj say dis kain corruption dey against dia law. Still e dey helep di medicine enta black market.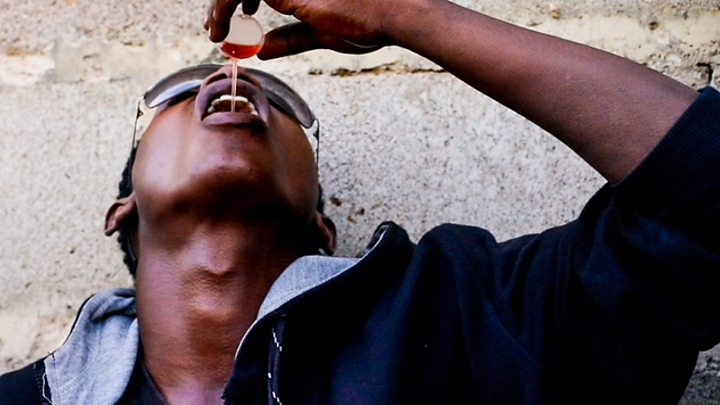 Wen we tell Bioraj say we get evidence against Hassan, di company release statement say dem dey only supply dia medicine to company wey get authority to sell am. Dem say Hassan no gree say im commit any offence and na di company chairman dey personally supervise wetin dem sell.
Codeine and all di members of im family get heroin inside. Na ogbonge painkiller but e dey make pesin high if e take am plenty. If pesin dey use to am e don become drug addict be dat and di tin fit to scatter pesin mind and body.
For Dorayi Rehabilitation Cetre, Kano, I meet one man wey don craze sake of di drug. Dem bin use chain tie im leg for tree. Na so im just dey scream, dey troway imsef for ground. Three days ago, im bin dey road dey break pipo glass for traffic.
Sani Usaini wey be officer for di rehab centre say, "im still dey go through withdrawal syndrome."
Codeine cough syrup - size of di problem
Codeine na pain killer but e fit turn pesin to addict. If pesin take am excess e fit make am kolo or destroy im organs.
Dem dey mix codeine with soft drink and na students dey drink am pass.
Na import dem dey import codeine, but more dan 20 pharmaceutical company dem dey make di syrup.
Nigeria drug police dey fight dis big palava. E neva too tey wey dem seize reach 24,000 bottles of codeine syrup from one single lorry for Katsina State.
Codeine addict na serious wahala for different parts of Africa, including Kenya, Ghana, Niger and Chad.
For 2016 India ban different kain of codeine dem sake of say plenti pipo dey become addict.
On top of kidney damage and oda yama-yama sickness wey cough syrup dey cause, pesin wey drink am fit suffer from orishirishi mental sickness dem. Di addicts for direhad centre, some of dem dey so violent sotey dem chain dem for ground.
"Im no fit dey for bed because im don break di bed, im break window sef con injure imsef," as I sand in front of anoda man wey den use chain tie.
Di place dey smell poo-poo and flies full everiwhere. "Plenti mama and papa dem dey come dey cry."
Workers for pharmaceutical company wey dey sell di medicine for black market sabi say di tin dey quick turn pesin to addict. One of dem na Chukwunonye Madubuike wey be business development executive for Emzor Pharmaceutical. Im bin sell us 60 bottles of codeine syrup inside hotel room deal wey we bin do for Lagos.
"Wen pesin be addict to somtin - shey you get? - and im need am, di price no be wahala," na so im tell us. "Dis na product wey I know say if I get reach one million cartoon, I fit sell am finish inside one week."
Emzor Pharmaceutical tell us say dem dey chook eye on top Madubuike. Dem say im no fit get plenti codeine for im to fit sell large quantity for black market. Di company say, dem dey very responsible and dem dey still chook to see how dem go fit change dia law on top how dem dey take distribute dia market.
'Na different kain pipo dey use am'
For Kano north of Nigeria, drug police NDLEA dey everly raid, seize and scatter codeine syrup wey dem dey sell for street.
Di officers bin show us di plenti-plenti codeine wey dem bin seize. Dem also show us di orishirishi weapons wey di gang members dey use protect dia business, plus including knive, dagger, chainsaw and sword.
But NDLEA authority for Kano dey try cope with di big codeine palava.
Nigeria Senate say pipo dey drink reach three million bottles of di cough syrup everiday for only Kano and Jigawa.
"We fit no arrest reach 10% [of di cough syrup wey dey market]," Commander Hamza Umar for Kano NDLEA talk. "Na different kain pipo dey use am - rich o, poor o, pipo wey go school plus di ones wey no go, beggar and small pikin dem."
For di rehab centre, Usain try use di young addicts wey dey come im centre take gauge how serious di mata be. Before na two or three pipo dey come for rehab but "now we dey see seven, eight, sometimes ten inside one week... any pikin wey you see say dem carry come here as addict, na codeine."
Inside one room wey no get window, we find one of those kain children - one girl wey dey 16 years with pink hijab tell us ay na her boyfriend she bin dey get di syrup from and she dey drink am afta school.
She get simple message for young Naija pipo wey codeine temptation dey catch: "I wan advice dem say make dem no try am if dem neva start already. E go destroy dia life."
Dis na di first report from BBC Africa new investigation unit, Africa Eye.