Anglophone Crisis: Solve de crisis through correct tok for table-African rights defenders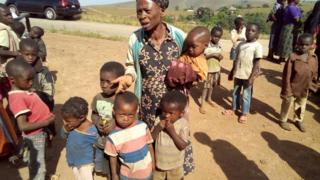 Pan African Rights Defenders Network, di ask Cameroon goment for stop violation for human rights weh e di go on for Anglophone regions dem.
De rights defenders di worry say goment no di shake skin for shiddon for one table start true-true for solve de crisis.
Dis group say deh get report say de situation for Northwest and Southwest regions wowo sotei with plenti human rights violations.
Military dey for de regions dem since 2016 and as goment di arrest pipo weh want for bi on dia own, e di lead to plenti violations. Deh kill plenti civilians, some wan dem loss, deh arrest hundreds of odas, torture and charge some for terrorism acts. Military don finish village dem laik, kembong, Kwakwa, Bua Bakundou for Southwest region, de rights defenders tok for release.
Military operation don lead to anoda crisis weh na wan for pipo, plenti di waka go oda areas especially woman and pikin dem, deh add.
African rights defenders also shine eye for de 47 refugees weh goment arrest for Nigeria bring back for kontri. Deh di worry say since deh bring dem for kontri only goment tok-tok person say deh dey fain but e no tok wusia deh dey.
"E bi illegal for always deny make deh 47 refugees dem no see dia families and lawyers and for keep dem without information. Authority dem di violate obligation for African Charter on Human and People's Rights and international Human Rights standard weh e di check arrest and detention, de rights defenders tok.
De group di ask goment for give access for de pipo dem for prison plus regular and correct update for how deh dey.
Also, deh di call on de African Commission for People and Human Rights for take strong measure to push authorities for respect obligations for de African Charter for Human and Peoples' Rights.
"We di encourage human rights groups for Cameroon weh deh di try for helep for make de world know de situation for pipo inside prison, laik de centre for Human Rights and Democracy in Africa".
De African rights defenders dem bi meet for de same taim weh deh 62nd ordinary session for African Commission for Human and Peoples' Rights hold dia meeting for Mauritania.