Anglophone revolt: Essay of Liberty, Prison and Exile' na Patrice Nganang e book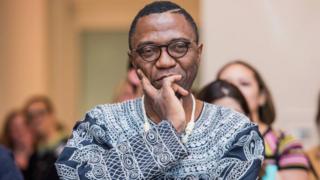 Patrice Nganang, writer and critique for President Biya regime, don komot book weh e di tok about Anglophone crisis just de same taim weh Facebook block e, for seka video weh di tok bad about Cameroon army.
'La Revolte Anglphone, Essais de Liberte, de Prison et d'Exile' weh for English na 'The Anglophone Revolt: Essay of Liberty, Prison and Exile' na de title for Nganang e book.
De 260-page book weh Teham Editions publish'am na de first book about de Anglophone crisis weh e di scatter Northwest and Southwest regions, weh deh write for French.
De writer weh Cameroon goment lock for prison for seka say e di show concern for Anglophone dia condition di touch de reader for heart with de book as e di give detail from e experience.
Anglophone crisis na war between de Paul Biya regime with military weh e di fight population for Northwest and Southwest regions and more dan hundred pipo don die plus about 40,000 refugees, Nganang tok for book.
De professor of New York, Stony Brook University try for explain de Anglophone problem and for page 9, e write, 'today for dia demand, Anglophone dem give dia name say Ambazonia, pipo for Amba land for oppose de name weh Portuguese bi givam'.
De book di answer three tins: sensitise pipo for de crisis, create solidarity chain and start reflection for real change.
Nganang want use de moni from de book sell, (10 Euros) for refugees dem and Anglophone prisoners for opinion.