Musing Derrick e film 'Tenacity' win Camiff overall best film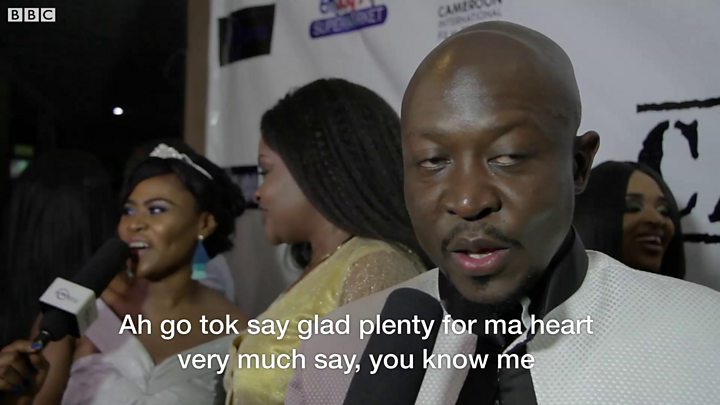 Musing Derrick, weh e film 'Tenacity' win big as best overall film for Cameroon Film Festival, Camiff dedicate de prize for, Tsi Conrad weh e dey ngata for Kondengui for seka Anglophone crisis.
De main character for de film, 'Tenacity, Tsi Conrad dey for de same case with Mancho Bibixy.
Afta weh e dedicate de prize for Tsi Conrad, Musing say e glad plenty say e kam dis far, not as Cameroonian but best overall film.
"This show say Cameroon di do correct work, our three years sleepless nights weh we don work for dis film no bi for no nothing".
Jessie Nehwah actress weh e attend de film festival tok e own say, society no di accept dem, film maker, dey prefer for watch foreign films instead of kontri films dem.
"Na big problem dat for film making because e no end na for studio, or for field, e end na for consuming. Again, ngomna no di support our industry, if ngomna fit help for stop some of dis cable network, deh no go get choice dan for consume home products".
De organiser, Agbor Gilbert say de idea behind Camiff na for bring pipo dem weh deh go fit buy de movie weh deh di do'am.
"Wen you don finish fix de film and you no fit sell'am for get back de moni weh you don put'am for inside, and mostly na moni weh we borrow'am for njangi house and friends dem. E di make'am e di become hard for we for tok say we don make career, or living from dis trade", Agbor Gilbert tok.
Camiff organiser say make kontri pipo no tink say deh no di do fain work as e mimba say for wan festival for America na Cameroonian film win best film.
We get oda place weh Cameroonian film don go and e don bi successful, no bi na say, we no di do fain film, e bi na say pipo no di know how for reach for place weh deh go get de film dem.
E say de quantity for film weh e di komot Nigeria and Ghana plenti weh pipo no fit really identify or notice for de wan dem weh deh no really over fain and pay attention for de wan weh e really over fain.
"Ah feel say we film maker for Cameroon, we don even over try sef, we don really upgrade, we don even di do film for dat level weh even American man go look'am say yes, wuna don try", Agbor Gilbert tok.