Anglophone crisis: court adjourn case for Mancho Bibixy, odas again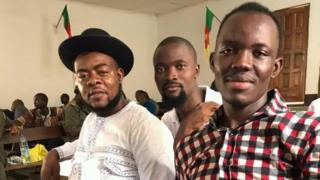 Court don shift case for Mancho Bibixy and odas for seka say lead counsel for defence, Barrister Bernard Muna no dey and defence get de notification charges on Tuesday, so deh ask for adjournment even as all man bi di wait for sentence.
Court adjourn de case for May 24 afta e shiddon for 6:55 pm weh Mancho Bibixy, Tsi Conrad, Tha Emile Agwe, Tangwa Maloin Tangwa, Azelecha Martin, Guingah Valentine, Kambeh and Junior Thomas Awahro bi kam court about 9:30am and stay sotei di wait till late.
De coffin revolution man bi wear coat weh e get wan kain colour weh ngirish di kallam ox-blood, white trouser and black shoe.
Lawyers for defence council and civil party bi don already bi for court and deh bi di wait court president Col. Abega Mbezoa Eko Eko.
But for laik 6:30pm defence council vex as nothin no bi don start, and deh go shiddon for Court President e doormot.
De lawyer for defence counsel, Honouratous Ndi Shey tell tori pesin Ajumane Francis say "deh bi wan make court president adjourn de case as dis lead lawyer, Barrister Bernard Muna no dey and we no fi feel fain".
"We also receive notification for charges na yesterday but deh bi suppose for notify we since two weeks make we try for plead for court for soften de charges give lesser sentence", e add.
All man bi di wait say make deh sentence de seven pipo dem today and deh adjournam again.