I sell everything wen I get to go Europe - now I don come back house and I dey broke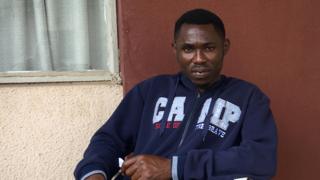 E pass 3,000 Nigerian migrants wey International Organization for Migration carry come back house as dia waka to reach Europe fail . Many of dem sell everyting wey dem get to make di trip and now dem confuse ontop how dem go take face dia family dem, as tori pesin Colin Freeman write.
Evans William tell me say him sell everything remain only im kitchen sink to pay for im dream to reach Europe. As in him sell everything - him bed, fridge, TV, him spare cloth dem and him mobile phone follow. Him still borrow money join, before him finally gada enough money to pay one smuggling gang to carry am comot from Nigeria pass di Sahara to Libya.
Everything cost am £750 ($1,000), but him bin no worry. As him think say once him reach Europe, him go make money quick take pay pipo wey him dey owe, and afta im go return to Nigeria to start him own business.
Di mata no come be as him think am. After him spend six hard months for Libya, where di gang force am to work for no money, finally him enta one kukere boat to take cross di Mediterranean. But Libya coastguard stop dem , come put him and 140 other passengers dem inside detention centre.
By then di mata don come tire am. Wen I meet Evans last month, him just return home to Benin City for southern Nigeria, him dey among hundreds of migrants wey bin dey stay for one government-requisitioned hotel.
International Organization for Migration, one UN body wey dey help illegal migrants wey wan return home na di organisation wey fly dem come back house.
Ontop di free plane ticket, dem give dem some nights' hotel accommodation, and £200 as pocket money to help dem settle down. Dem also get opportunity for job training, to give them better chance of livelihood.
Na European Union dey support dis scheme wit £3bn fund wey dem set up for 2015, di year wey migrant crisis full news everywhere.
Di EU dey hope say as dem dey offer migrants chance to support dem sef for dia own kontris, dem go gree to comot for Libya - where up to 700,000 still dey wait to cross di Mediterranean enta Europe - and turn back.
E pass 3,000 Nigerian migrants wey don already come back, and anoda 20,000 go still come back dis year.
Even for pipo wey gree collect help wey dem give dem, to return back home fit still be depressing experience.
Narrow escape for 50 Nigerian migrants ontop Mediterranean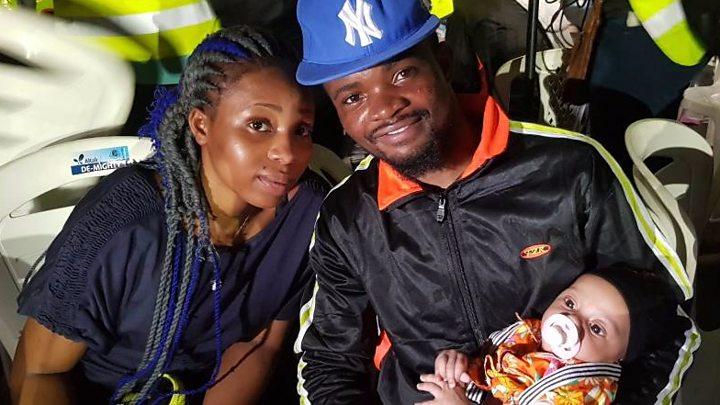 Many of dem, like Evans, still no get place where dem fit go. And as dem happy ontop di job training wey dem get, na still for small-small mata, like hairdressing or tailoring, or to learn how to farm. For pipo wey bin don dey dream to make am for Europe, dis one no reach dia level.
Anoda thing wey dey pain dem be say, dem feel say dia friends and relatives go dey look dem as failure. Many of dem get money for dis trip because dia mama and papa sell family property. Nobody wan come back without money, come tell pipo say dem scata di chance of a lifetime.
Evans, for example, no even wan go back home - even though e be like say na di only place wen him go see bed sleep once im pocket money finish.
"I still no want stay for Nigeria," as him tell me. "But next time, i go try go Europe by legal way."
Abibu wey him face show say him no happy at all, bin dey di same flight wit Evans. Him bin get one fresh scar for him face, and dey talk with deep voice.
E say him mama sell her only plot of land to take pay for him travel to Europe. Him never even tell her say him don come back.
"If my mama see me like dis she go sick wit worry," na so him talk. "And all di neighbours, go dey talk say, 'Dis guy im mama sell her land make him take go Europe - and him come fail!' If I hear anybody talk like dat, I tell you, i go kill di pesin."
So wetin him go do now?
"First i go need get my money back. Di pocket money I collect na just small inside wetin i spend to reach Libya."
Which of di training dem Abibu bin like? Hairdresser? Farmer? E be like say him get anoda work for mind. "I go look di training dem," as him take talk sha. "But i dey worried say i fit go comit crime to get my money back finally."
Really? Which kind crime?
"E fit be robbery."
Him sound like say him mean am, and i come begin dey wonda say wetin Abibu to get di scar wey dey him face. As we tell each oda bye-bye, my Nigerian co-worker, Peter, wey also be pastor, come feel say make him talk something too.
"Na you decide to go - no blame oda pipo," him tell Abibu. "And reconnect wit your mama - at least she go happy to hear say you still dey alive."
You sure? Two years ago, for one migrant detention centre for Libya, I meet one prisoner from The Gambia, wey ask me to help am pass dat kind message give him family.
Wen i phone dem, I bin expect tears of joy.
Instead, na only one question dem ask me: "So you mean say him neva reach Europe be dat?"