CAR Crisis: UN say quarter for population bi exposed for bad gangs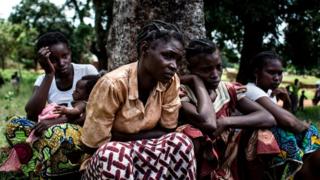 Rochdi Najat, UN Coordinator of Humanitarian Affairs for Central African Republic don say situation for Central African Republic, CAR don di enta red zone as a quarter for de population be exposed to armed groups and bad gang dem.
"Pipo weh deh di run for seka de crisis don reach 70 percent dis 2018 and e don reach level weh 1 out of 4 pipo for CAR be displaced and e mean say na about a quarter for de population be weak and exposed for armed groups and bad gangs", Rochdi Najat explain for BBC News Pidgin.
Now so for CAR, 2.5 million pipo need assistance, more dan 568,572 displaced pipo outside and 400,000 inside, deh moni weh deh need na 515.6 million dollars, but na only 9.4 percent for aid deh get.
"We don reach level weh 18 percent for pikin dem di die, and na percentage dat for pikin for dis kontri weh deh no get chance for live, not even for go school, weh na basic human right for person to live", Rochdi Najat tok.
Rochdi condemn strong-strong attacks dem for humanitarian workers and hospitals dem, say dis kain tin no bi acceptable as any man any suppose get access for health centre and no face any discrimination for tribe or religion.
Efforts don deh for dialogue do political negotiation, security and peace and consolidation plan but de situation still be critical with plenti manipulation weh Najat say dis wan kill many pipo pass oda tins dem, and youth dem despair.
Virgine Baikoua, CAR Minister for Humanitarian Action and Reconciliation, add say "katata for Central Africa no bi about religion, na poverty war, na because for some taim, some pipo be bi affected by situation weh e no good, and some di manipulate dem for take guns with promise say dia life go beta".
Minister say CAR goment get de vision for bring peace, reconcile pipo, shiddon for table tok, arrange road, reconstruct CAR.
De humanitarian community di try for give youths dem oda ideas, alternatives, activities weh e go give dem moni, opportunity for dream, for believe for dia future, even though spoilers still dey plenty.
UN, CAR goment don start for bring back pipo especially for western part for kontri and dis wan for dem na pillar for peace, recovery, and for helep pipo for kam back for normal life, safety and dream for better future.
De meeting weh UN hold for Yaoundé with diplomatic missions, pipo for CAR na for drum support for give assistance for CAR.