Monkeypox disease don enta Cameroon - Health minister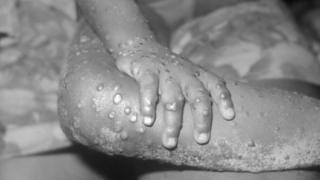 Ministry for health don discover monkeypox virus for Njikwa health district for Momo division for Northwest region and Akwaya health district for Manyu Southwest region.
Andre Mama Fouda, Health Minister di call on de population for de two regions make deh no chop die animal and avoid contact with sick animals dem. Na from monkey and rodents, (rats, Guinea pigs…) man di get de disease.
Centre for Disease Control, CDC write say signs for monkey-pox na, fever, headache, muscle pain, back ache, cold and tiredness. De sick di start with rashes for face den di spread for de whole bodi.
De fear na say de monkeypox virus fit don plenty for many oda health districts dem around for de two regions and deh agents for ministry di shine eye for see how big de sick dey and how for stopam.
Mama Fouda di call on population for de two regions for join hand with health workers weh deh di shine eye for de mata and take any man weh e di sick go hospital.