Bamenda pipo remain calm, no drink palm oil, Lake Awing no explode - DO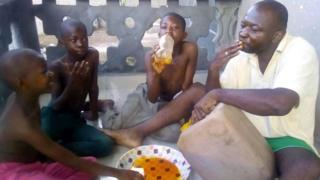 Viang Mekala, Divisional Officer, DO for Santa, sub-division for Northwest region say make Bamenda pipo remain calm, no drink oil as lake Awing no explode.
"We get dis kongossa say lake explode and we go there with tori pipo, so make Bamenda pipo calm down as problem no dey", for Santa tell BBC News Pidgin.
Bamenda pipo panic and all man di drink palm oil for night as kongossa pass say Lake Awing don explode, some say na chemical deh put for de lake for kill pipo for up kontri, so pipo start drink palm oil.
Deh believe say if deh lick de palm oil e go put down de effect of de chemical weh deh in-hail for dia bodi.
"Dis morning ah komot for road and ah no see sign say anything di happen but for night ah drink oil, Terence Tado, resident for Bamenda tell BBC News Pidgin.
Anoda person Maryline Mankaa say deh get news for around 1:00am and deh just di drink palm oil. "Ah call my sister too say make e drink oil".
Some pipo don even go lake Awing dis morning for show odas say nothin di happen for de lake and say radio one battery go cause trouble for pipo.
Bamenda don become town weh population di believe anything from radio one battery, na so pipo di just lock dia shops no sell for de whole week because deh say ghost town and deh no know who di tell dem for observed de ghost town de whole week, anoda Bamenda man Peter Anyangwe tok.
Den some wan na AmbaNews weh pipo di share for whatsapp, and na so pipo di believe'am. Even when goment say make kontri pipo look-out because monkey-pox deh for Batibo and Akwaya AmbaNews say na chemical weapon and di make de population for put doubt dis health information. De bad tin na say Amba News say small-pox and na different tin from weti weh de health information tok, Peter Anyangwe add.