Anglophone crisis: Military Court go sentence Mancho Bibixy and odas on Friday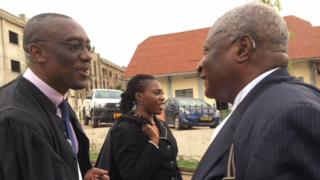 Court President Colonel Abega Mbezoa Eko adjourn for sentence on Friday, case of Mancho Bibixy.
But before de sentence on Friday, Mancho Bibixy and odas get last chance for tok, and e tell court say even as de case be na criminal case de causes bi political.
"If you laik pass any sentence e no go helep for finish de Anglophone crisis as we no fit run away from de fact say na political case", Mancho Bibixy, weh na journalists and history teacher tell court.
Mancho weh e bin take coffin for road enta inside for tok about marginalisation for Anglophones, say make court president lef de mata for court go meet President Biya tell e say e ready for meet e.
De 'Coffin Revolution' man ask court weda deh go allow make kontri spoil before deh look for solution for Anglophone crisis den e add say no sentence go stop protest for Anglophone regions dem.
E thank court say de case don helep e for get knew kombi dem, learn small French and for e, na de good side.
Before all de detainees tok one afta de oda, defence counsel with Maitre Claude Assira for front say court bi don declare dia clients guilty and na serious tin, and so deh try for plead say make court no consider dis serious law and no make e no add salt for injury.
Maitre Assira say court no give proof for weti weh deh accuse e clients for and say make de sentence be educative but make e no bi too much.
For de payment for about 579million francs damages, defence try for demonstrate say de claims deh no get justification and and deh be unrealistic.