Anglophone Crisis: Army tori pesin say Santa die bodi photos na lie-lie
Leocadia Bongben
BBC News Pidgin, Cameroon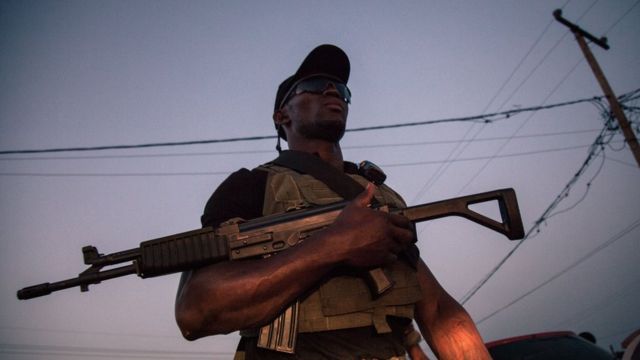 Army kill penti pipo for Menka- Piyin Santa sub-division for Northwest region, and pipo di wanda if na fight or deh fool deh pipo dem army surrenda and kill dem.
Some mami for Santa tori BBC News Pidgin say deh fool pipo say deh go take tem enta Ambazonia group, take some wan weh e komot farm, wen deh gada for one place den army e kam finish all of dem with bullet.
Anoda person say na tief pipo weh deh enta inside Ambazonia group weh deh kill for Santa.
Photo di circulate for internet with die body dem for Menka for one village for Menka, Piyin village for Santa and for de pictures dem one die man hand for ceiling.
Kain kain tori deh for outside but army tori Person Colonel Didier Badjeck write for e Facebook post say na lie-lie picture for de die man weh e hand for ceiling.
De correct tori about de picture dem as Colonel Didier Badjeck tok, army get information say de separatists dem dey for Santa, den deh go surround de hotel but as one person spy dem e alert de odas and shooting start. Na so deh kill some pipo and deh take de wan dem weh de get wound go hospital, den de seize guns and bullets from dem.
Barrister Akere Muna, political aspirant say even as goment no want make some outside pesin put mop for e tins dem, e no fit understand why de same gomemt turn blind for de killings for de two regions dem.
E condemn de killing for innocent and pipo weh no get arms for Menka, say deh no value for human life for de two regions.
Deh also see plenti die bodi dem for one pace for Batibo Northwest region and no man get idea who kill dem so council don bury dem.