World Environment Day: 'I don totally ban plastic bags for my house'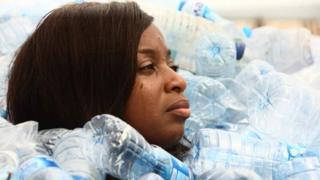 Dis young lady for Lagos, na one of di few pipo for Nigeria wey don join some odas abroad wey no wan carri eye see pipo dey use plastic anyhow for di environment.
Since 1971 United Nations set June 5 evri year as day to tok about wetin dey happen for di environment.
"I don totally ban plastic bags for my house.' I dey reject plastic bags for supermarkets when I dey go do shopping."
"I go-go around with one water bottle so I fit avoid to dey buyi bottle water. I use bamboo pegs and wooden or metal hangers at home. And I dey recycle; use plastic again and again !"
Doyinsola Ogunye wey be young pesin wey dey promo safe environment for Nigeria, dey tell BBC Pidgin dis one.
2018 campaign get hash tag wey be #BeatPlasticPollution, according to United Nations Environment programme.
Ms Ogunye tok say "Plastic no be di really problem but na how we don dey abuse am be di palava. Yes Nigeria go fit survive without plastic. We get di strength and oda options plus materials to use replace plastic."
She also say 'to use plastic one time throway am na one big problem because Nigeria is kontril wey dey consume almost evritin. We just need to change our habits.'
Plastic use popular for Nigeria sotey e get different names:
Leather (bag)
Waterproof
Polythene
Plastic lubber
Lylon
Poly Bag
Nylon
rubber
Thousands alias tons of plastic materials full for gutters, rivers and oceans, 15 tons of plastics na im dey enta ocean every minute, according to reports by Ocean Conservancy.
In fact dem find out say e reach one million seabirds and 100,000 fish and oda animals inside water wey dey die every year on top plastic pollution.