Cameroon: Merecin for 'bodi tanap' di fuel black market business for kata beef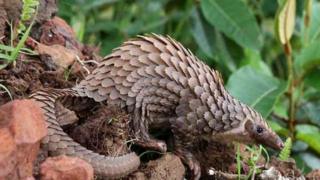 Pipo weh deh di fight black market business bush animals weh deh fit disappear for dis world say deh di use kata beef e back, (pangolin scales) for make merecin especially de wan weh e di make man pikin e bodi tanap, even though sabi pipo for science nova confirm'am.
"Deh di use back for kata beef back for Asia and China for make merecin, especially de wan weh e di make man pikin e bodi tanap set for match ontop bed. Eric Kaba Tah sabi pesin for Last Great Ape, LAGA tell BBC News Pidgin.
Apart from merecin for bodi tanap, deh di also use kata beef back for beauty industry for make nails weh woman di add for de wan weh God give dem. Louis Nkembi CEO for Environment and Rural Development Network, ERUDEF, add.
Dis wan fit be de reason weh kata beef go fit disappear for dis world if kontris dem laik Cameroon no di protect dem.
No bi only kata beef dey for red list for animals weh deh fit disappear for dis world, oda bush animals na monkey and elephant weh deh deh di kill for get e teeth (tusk). Black market business for dis animals dem too di go before.
For Cameroon na round 700 pipo weh di sell animal for black market weh deh don catch, and na every week deh di catch some big pipo dem for dis business weh e represent na only 10 percent. Na around 60 percent for elephants dem weh de don killam for de past 10 years, Tah tok.
Dis animal black market business get chain weh e di follow from bush, transport, business pipo and market and na some pipo dem weh deh no di suspect laik fada, uniform pipo godfadas dey for cona di helep dem.
For stop dis black market business for bush animals weh deh fit disappear for dis world, British High Commissioner to Cameroon, H.E Rowan James Laxton with e partners, government pipo, civil society and journalists don shiddon for see weti deh don do and fit do for stop dis business.
De shiddon bi too na for prepare high level meeting for bush animal black market business (Illegal Wildlife Trade) weh e go take place for London for October dis year.
De High Commissioner go meet Minister for Wild Life, den President for push Cameroon for put strong law for protect animals, punish de animal business pipo and teach communities and groups dem for protect animals weh deh fit di disappear.