Cameroon: Paul Biya don announce say presidential elections go hold for 7 October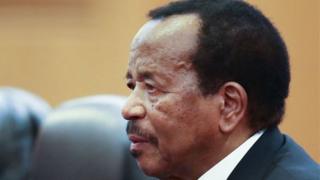 President Paul Biya don announce say Cameroon presidential elections go hold for 7 October, 2018
Dis na di kontri first presidential election since since October 2011.
But parliament and senate sign law as president ask push parliamentary and council elections for 2019.
Cameroon president, Paul Biya don call electoral college for presidential elections as e sign decree 2018/391 on Monday for set date, day and taim for elect president for Cameroon.
From de decree, Article 1 say na for Sunday October 7 weh Cameroonians go elect dia next president and Article 2 say polling stations go open for 8:00 am close for 6:00pm.
Election Timetable
9 July, Electoral College
19 July, candidate suppose submit dis application
9 August, deh go publish candidate list
24 September, election campaign go start
07 October, Presidential elections.
President Biya don respect de 90 days for call electoral college and also respect de day weh elections suppose hold, for Sunday or public holiday.
Cameroon go elect president for anoda seven-year term for office and if any man no bi don register for vote de pesin don late as registration don stop as deh sign dis decree.
Even as presidential elections go hold, Senate and Parliament gree president Biya e proposal pass law weh e push parliamentary and council elections till next year.
Plenti political parties bin don get dia candidates for compete for enta Etoudi palace laik Barrister Akere Muna, Joshua Osih for Social Democratic Front, SDF Maurice Kamto for Cameroon Renaissance Movement CRM and odas.
Up to now, ruling party Cameroon People's Democratic Movement, CPDM party members still 'beg' dia president, Paul Biya say make e be candidate for 2018 presidential elections.