Di different different Igbo gods and wetin dem sabi dem for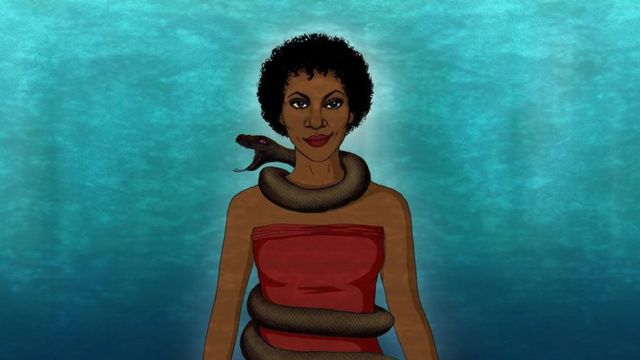 Igbos from di South Eastern part of Nigeria no different from many oda tribes for di kontri during white man rule.
According to Dr. Chigozie Nnabuihe; wey dey teach for di Department of Linguistics, African and Asian studies for di University of Lagos, many get gods and spirits wey dem dey follow and worship.
"Chi-ukwu' wey mean di 'greatest god', na di one wey pass all di oda gods. Evritin about am na like di God wey modern day Christian pipo dey worship: Im be male, invisible, e sabi evri evri and im dey live for up."
Even though di two resemble, di missionaries from obodo wey first come Igbo land refuse to believe say dem two be di same.
Di Igbos believe say 'Chi' get two messengers: 'Anyanwụ' (sun) and 'Ọnwa' (moon) and evriday, dia work na to waka across di earth.
According to Igbo tori, 'Anyanwụ' (di sun god) dey rule for day and 'Ọnwa' (di moon god) na im dey rule for night.
Pipo dey also call 'Anyanwụ' di god of sight, knowledge and light because im fit pursue darkness comot.
'Ọnwa' according to Igbo tori, na di power wey dey guide di dead as dem dey cross enta afterlife.
'Ikenga' na di personal god wey get horns, wey im work na like dat of guardian angel.
Pipo believe say evri Igbo pesin get personal 'Ikenga' for dia house.
Sacrifice of animal blood (wey fit be of goat, bird or cow), pieces of roasted yam and kolanut na must for daily sacrifice.
'Ala' na di earth goddess from wia evri human bin come from and must return to wen e die.
'Ala' dey make women born pikin and bring big harvests to farms; goddess wey only wan tins wey pure. Pipo believe say she fit spit out bodi of pesin wey don do bad tins for life and fit swallow anyone wey offend her.
Ala sign na di African python.
Up till today, for new yam festival celebration wey dem dey do evri July and August, di Igbo pipo dey honour di earth god.
'Ofeke Mmụọ' - Evil Spirits
We neva count gods and spirits finish if evil gods no dey inside.
Dem dey call di evil gods 'Ofeke mmụọ'.
Most of di marine spirits dey inside dis category.
Pipo believe dem to be woman, wey get plenty sexual energy and dey very powerful; dia sign na di African rock python.
Di one wey pipo fear pass for dis category of evil spirit na di 'undead' spirits, wey dem dey call ọgbanje.
Igbo culture believe say dem go change to human being come enta families of those wey don offend oda gods.
Ogbanje go enta families as new born pikin but dem go come decide to die wenever and wiaever dem wish, most times during delivery, to bring plenty pain to di families wey don offend.
Dis tori come from BBC Igbo Service.