Cameroon CRM party say deh go take CPDM mimbas weh burn dia symbols go court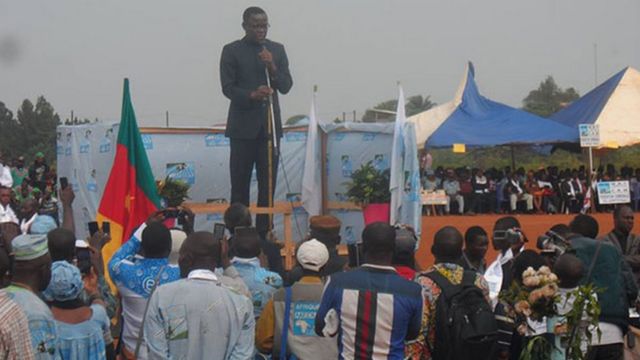 Cameroonians get de shock of dia lives as deh see video how Cameroon People's Democratic Movement (CPDM )mimba's with Cavaye Yeguie Djibril, weh na house speaker di burn Cameroon Renaissance Movement, CRM dia t-shirt and signboards.
CRM party with Maurice Kamto as chairman don tok say deh go drag CPDM mimbas plus Cavaye Yeguie Djibril for court as deh burn dia symbols for Far North region.
De party don call e mimbas dem and Cameroonians make deh no fall for inside de provocation from ruling party CPDM.
Dis kana behaviour happen for Far North wen ruling party hold meeting for de region for Maorua las week. Na so CPDM mimbas with dia own party uniform and t-shirt for skin tear-tear CRM t-shirt, break signboard burn'am laik for Nazi regime.
Kamto say Biya and e party mimbas dem di panic for seka de way weh deh receive CRM party for de ten regions dem.
Wen tori pipo dem call Cavaye Yeguie e say na young pipo dem burn CRM dia t-shirt and signboard dem and say deh wan kam back for house as na only one party deh, CPDM.
Maurice kamto weh na one of de pipo dem weh deh di langa for bi Cameroon president, and don put di book for 2018 elections. For official for Ministry of Justice, Maurice Kamto bin resign komot for goment den form e own party.
House speaker na big supporter for CPDM but some pipo say dat kana tin no fine, say e for fit stop any man weh e wan burn oda party dia symbol.