Anglophone crisis: Defence Minister don promise for punish soldier weh e rape ngondere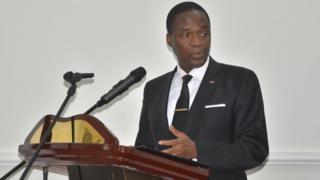 One soldier weh e rape ngondere for Cameroon appear for court and Defence Minister don promise for correct punish de man.
Inside release weh Defence Minister Joseph Beti Assomosign e say army pipo weh deh send for Northwest and Southwest region for seka de crisis suppose bi professional.
Viral video don komot for social media yesterday weh ngondere di tori how policeman rape e for Bamenda as e mami send for go take water melon from dia shop.
Dis ngondere, 17 years, mami pikin di craiy for video say wen e reach Veterinary Junction for Bamenda, de soldier stop e ask for identity card and as e no bi get'am deh say make e stand with weh pipo weh no get ID card.
As e follow de man go for back petrol station e no see anybody and de soldier say make e komot e clothes as e di beg, den rape e and afta e wan give e taxi moni.
Na so for social media pipo just di tok say no bi de only case say na work for army for Bamenda as deh don di use rape as war benefit.
Even some oda pipo dem don komot picture for some man put'am for social media add e name say na yi do dis kana wowo tin.
No bi de first video weh e go viral for social media as de wan weh army shoot-shoot woman and pikin dem too bin go viral.