Anglophone Crisis: UN boss di fear say killings pass de wan for videos dem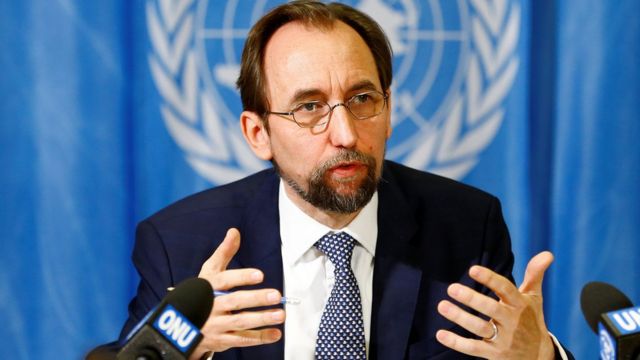 UN High Commissioner for Human Rights Zeid Ra'ad Al Hussein say e don get e shock for seka tori for violence and violation for human rights for Northwest and Southwest and for de Northern part of Cameroon.
UN rights boss don command goment for investigate de killings dem weh deh komit for Northwest and Southwest plus Northern part quick-quick.
"Cameroon goment get for shine eye for de crimes dem quick-quick. Ah di fear say de killings dem weh de capture for video no bi de only case dem", Zeus Ra'ad Al Hussein tok.
UN rights boss get e shock from de video weh e di show how deh shoot-shoot mami and pikin dem.
De rights organ no happy as goment no give dem access for go shine eye for some of de tins dem for de regions.
But UN say deh go fit use different kana way laik remote monitor for check weti di pass for ground.
For 2016 katakata bust for Anglophone regions as lawyers and teacher komot for road for say marginalisation and patcha for Anglophone dem don too much and suppose stop.
Since den, army di burn- village dem, use force, torture and kill and gunmen too di kidnap and kill too. Laik 21,000 pipo run enta Nigeria and 160,00 run go oda places for kontri.
"For stop dis situation make e no bad pass, ah di ask goment for do independent investigation how army and Ambazonia fighters di mash-mash pipo dia dignity for ground".
De rights boss say even as e di condemn attack for forces especially de wan for defence minister on July 13, goment e action since last year for use too much force di make situation bad pass for woman, pikin and man.