China - Africa summit: Why Oby Ezekwesili say African leaders lazy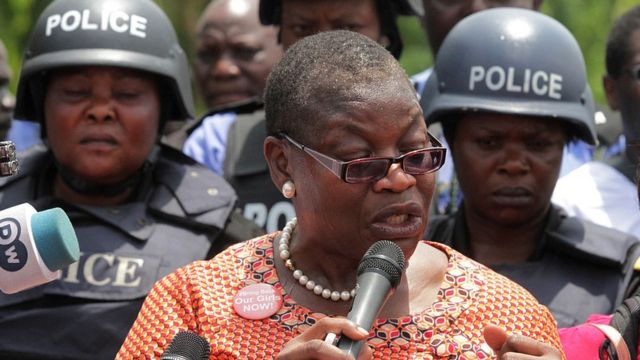 Former World Bank Vice-President Oby Ezekwesili carri enta social media on Monday to draw ear give Africa kontri wey dey take money from China because dem no need am.
Ezekwesili wey also follow start Transparency International, accuse African leaders say dem no dey reason di deals behind dis loan money well well before dem collect am from China - say na dis kain money put African kontris for touble before before.
Skip Twitter post, 1
Until African leaders &citizens mobilize CONSENSUS around the CORE ROLE of private sector in helping SOLVE our ECONOMIC problems, WE SHALL KEEP GOING A-BORROWING & thus A-SORROWING.

Citizens are ENABLING #LazyLeaders on the Continent to AVOID HARD WORK & go for #ChineseLoans.

— Oby Ezekwesili (@obyezeks) September 3, 2018
End of Twitter post, 1
From May 2007 to May 2012, she serve as Vice-President of di World Bank (Africa division). Dis na afta she work for di goment of former Nigeria president Olusegun Obasanjo as Federal Minister of Solid Minerals and later Federal Minister of Education.
So Ezekwesili suppose know wetin she dey tok wen in one of her post for Twitter, she tok about how politicians for African kontries dey do di mistake wey those before dem do for 1980s and 1990s.
Skip Twitter post, 2
Chinese attitude to Indebtedness is the HARDEST in the world. I know, because one had to deal with it in the course of my work @ the World Bank, helping African countries to get the HIPC Debt Cancellation.

It ANNOYS ME TO NO END to see our countries BINGING on Chinese Loans.

— Oby Ezekwesili (@obyezeks) September 3, 2018
End of Twitter post, 2
Skip Twitter post, 3
Most annoying of this latest round of RISING SCALE of Public Debt by countries of the continent is that the politicians are behaving EXACTLY like the ones who PILED UP DEBTS in the 80s & 90s.
"Just sign up for plenty Loans...forget about imperatives of Debt Sustainability." KAI!!

— Oby Ezekwesili (@obyezeks) September 3, 2018
End of Twitter post, 3
Skip Twitter post, 4
For the massive Investment that our continent needs for even basics like Infrastructure (some $93B annually from one of the studies by our team some years ago), the continent does NEED to BORROW to complement primary source of financing- its own domestic revenue mobilization.

— Oby Ezekwesili (@obyezeks) September 3, 2018
End of Twitter post, 4
But some pipo don begin reply give di former minister for her tweet, say Buhari goment need di money to put inside infrastructure development - even though Ezekwesili no mention Buhari by name for her posts.
Skip Twitter post, 5
They will continue to manufacture lies just to portrayed Buhari government bad.
A country that bankrupt as at when Buhari took over, I wonder where they expected him to get money to attend to capital project.
A borrow without source of revenue to offset can be criticise.

— Jas Ola (@jas_ola) September 3, 2018
End of Twitter post, 5