Akum-Bamenda road open afta 'Ambazonia forces' blockam, spoil motor, kill driver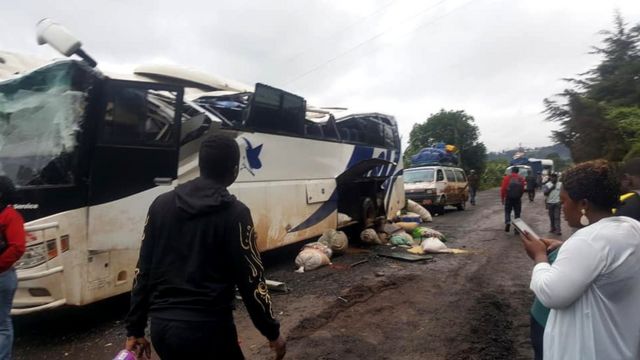 Pipo dem suspect bi Ambazonia fighters make pipo suffer Saturday night wen deh dig hole for Akum, one hour from Bamenda town stop all motor dem for pass broke-broke agency motor, kill driver.
Deh use caterpillar for company weh e di dig road for dig de hole den afta deh burn de caterpillar. Deh driver weh deh kill even though e di work for one of de agencies for Bamenda bin di drive na private car.
But just now army kam for morning put de ground back for road and motor dem weh deh komot Yaoundé and Douala for night just arrive Bamenda, and odas continue de journey too.
One passenger weh e bi dey inside one of de bus weh tori how de tin, happen. E say wen de bus reach Mile 8 Akum, deh stop deh bus say deh di work, say make all man go out.
As deh komot, deh pipo dem say deh bi Ambazonia fighters and say make de call police, but say any man weh e call deh go cut e head.
Deh off dia phone and and cut deh green, red, yellow for dia identity cards, den stay inside rain laik for three hour before deh go inside one house weh de show dem for go stay.
Help reach dem as goment force call dem make deh komot enta motor and deh take dem back for Bamenda town.
Activists dem say Ambazonia forces cut of Bamenda from west Cameroon for stop army for bring more forces.
For one of de agencies weh Ambazonia broke-broke dia motor dem for Yaoundé, deh workers no gree ok for BBC News Pidgin. "We no get any ting for tok, we too we di worry," dem tok.
Some passengers weh deh bi don buy ticket get de tori decide for shift de journey, but deh bi di look for who go buy dia ticket.